THE CENTRE OF THE BACK GARDEN
Open Fuchsia Garden in November 2018 plus big Fuchsia sale click Open Fuchsia Garden for more details.
Join us on Facebook http://www.facebook.com/groups/394140627308376/
Pages updated September, 2018.
If you spot any errors or faulty links, please let me know.
The rear section of the centre part the back garden is the hottest and is now covered with 4 shade sails. One of the sails is almost horizontal and another attached to the back of the first one and shaped down to the fence to cut down the hot autumn and spring sun. As this fence is on the northern side of the garden it stops the low sun that was shining under the original sail. There is a park bench surrounded by rosemary, lavender and thyme, with a lovely view of all the fuchsias. There are 8 large purple ceramic pots containing trailing cultivars, the watering system waters these as well. A temporary piece of shade cloth was erected from the fence for a few weeks until it came down in a storm - luckily before the hot days returned the permanent sails were erected.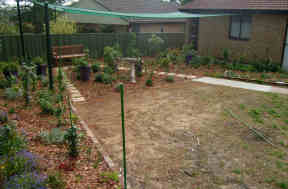 Even though this photo was taken July 2005 – midwinter, there had been no frosts and everything was growing well.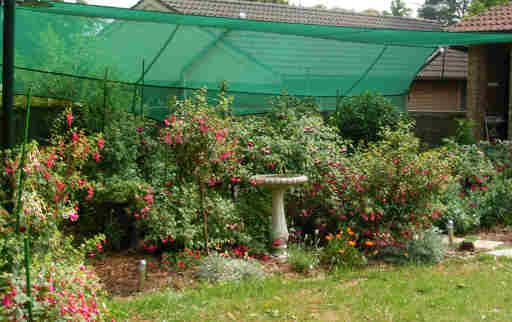 The centre section of the back garden, December 2005, the wet spring has made everything grow!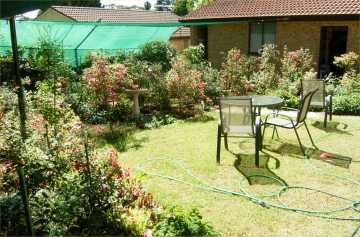 A wider angle in March 2006
Visit the rest of the garden.
<![if !supportLists]>· <![endif]>Left side of the back garden
<![if !supportLists]>· <![endif]>Right side of back garden
<![if !supportLists]>· <![endif]>Front garden
Reconstructing the side garden 2013
<![if !supportLists]>o <![endif]>