A trip through EJO Country
Overseas
Updated 12th January, 2015.
This page is part of
COLLECTING BOOKS and MAGAZINES,
Blue Mountains, Australia
SERVING COLLECTORS SINCE JULY, 1997
Elsie Jeanette Oxenham published 87 books and numerous short stories for girls during the first half of last century. Most of them were set in England but a few were set in Wales, Scotland, Switzerland and France and characters visit or live in several other "overseas" locations. Here are the places not in England Scotland or Wales that we have found so far. We hope you enjoy "visiting" the places you have read about so often.
Here is a small selection of EJO locations. More will be added gradually.
Additions and corrections always welcome.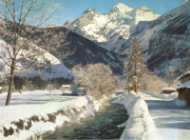 Grindelwald, Switzerland
| | |
| --- | --- |
| Wetterhorn, Switzerland | The Platz, Switzerland |
Above 3 pictures of places from EJO'S Swiss books.
Two old postcards of Malta, where Joan lived when Jack was based there.

Old postcard of Ceylon
where Cecily spent half the year. And where Rosamund's father lived.


Mürren - Switzerland
Two pictures of Kandersteg, Switzerland

Annecy in France where Rachel & Damaris lived to
learn French & Damaris started her Ballet lessons again.


Lake Annecy - From the old town
of Annecy across the lake to the Alps.
OTHER LOCATIONS OF EJO BOOKS
Buckinghamshire & Oxfordshire - Cumbria,Lancashire & Merseyside - Other Counties - Overseas - Scotland - Somerset - Sussex & Surrey - Wales - Yorkshire & Derbyshire
Back to main Abbey page and index of EJO items.
Back to Collecting Books & Magazines.