bc
A Trip through EJO Country
This page is part of COLLECTING BOOKS and MAGAZINES, Blue Mountains, Australia
SERVING COLLECTORS SINCE JULY, 1997
Buckinghamshire and Oxfordshire - Abbey Country
Updated 12th January, 2015.
Elsie Jeanette Oxenham published 87 books and numerous short stories for girls during the first half of last century. Most of them were set in England but a few were set in Wales, Scotland, Switzerland and France. Here are the places in Buckinghamshire and Oxfordshire that we have found so far. We hope you enjoy 'visiting' the places you have read about so often.
We welcome additions and corrections at any time.
High Wycombe where the Abbey Girls go to school is the reason that I first started collecting Abbey books, as my mother was born and lived there until after WW2. The woods, villages and hills were like old friends and the thrill of finding books that featured places that we knew (I say 'we', because when I brought the books home from school I had to fight mum for the first read) was marvellous. So this page is a nostalgic trip for me. I hope you enjoy it, too.
Here is a small selection of Abbey locations. More will be added gradually. The Abbey itself is actually located in Somerset. We are arranging the locations by county, so to see views of the Abbey just click here .
The locations that appear in RED actually exist.
Additions and corrections welcome at all times.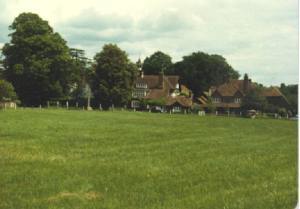 Whiteways village and green together with the music school and everything else only existed in Elsie's imagination but this typical Buckinghamshire village is just how I imagined it. Chinnor in Oxfordshire is the site of the village and some similarities exist but I have no pictures to show you. Perhaps someone could provide some.

Whiteleaf village where GIRLS OF
THE HAMLET CLUB opens. It really
does exist and even today much of it is
as it was in the days when Elsie visited it.
The Whiteleaf Cross only changed during the
war - it was covered to make it less noticeable
from the air. The black & white photo was taken
in 1845, the coloured ones in the early nineties. The cross is being restored..

Princes Risborough market place - just the
same as when Cicely and Miriam passed
on their way to catch the train to school, early in
GIRLS OF THE HAMLET CLUB.


Crendon Street, High Wycombe (the station is half
way up this hill) - visitors to the Abbey would
come down the hill and turn to the right, or if
going to school, to the left.

West Wycombe Village where Joy always
tidied herself after walking over the hills from
the Abbey on her way to school.


A view from the edge of the Chiltern Hills,
as Jen would have seen it on her first visit to
the Abbey on Joy's bike.
High Wycombe has changed markedly since the Abbey girls time but here are 2 views from early this century.
In the hills around High Wycombe are many
woods, all much smaller today than in the Abbey
girls time. These pictures are of Totteridge
Woods near Margia Lane's home.




Margia Lane took Cecily to see the bodgers (chair makers) in the woods in
GIRLS OF THE HAMLET CLUB. Here is the description from the book:

Thin blue smoke rose from camp-fires, and a number of men and boys were working round the huts, their cycles propped against the trees. 'What are they doing?' Cicely asked curiously. 'I saw a tent like those yesterday, but there was no one about, Are they gipsies? Do they live here?' 'Oh no! The huts are only for working in. They live in the villages- Little Hampden, Green Hailey, and others.' 'But what can they do out here? It's so far from everywhere. Oh, are they making things out of wood, from the cut-down trees ?' 'Exactly. And here are the 'things' they make;' and Margia led Cicely towards the workers. Near the huts stood stacks of rounded bars of white wood, placed neatly in piles, four laid crosswise as for 'noughts and crosses,' then others laid upon them till the erection was three feet high.

The little white stacks stood dotted about among the huts; as they watched, a boy came out carrying an armful, which he proceeded to pile neatly in orthodox fashion. 'But what are they for? What lots of bars of wood! But how are they used?' asked Cicely, in much curiosity. Margia laughed. 'Don't you recognise them? They're chair-legs, waiting to be carted to Wycombe and put together and provided with seats . 'Chair-legs! Oh, but how funny! So they are!' as closer inspection showed lines of beading round the bars, three rings near one end, two at the other. ' Is that how chairs are made? Out here in the woods? I thought they came from factories and workshops.' 'This is a chair factory. Those huts are the work shops. See, these are cross-bars quite plain; and those are for baby-chairs, evidently, by their size. 'And may we see how they're made? Don't they need machinery to smooth them like this? They look almost polished .'They aren't polished, except by friction.

Yes, Come and look into the huts. You'll have to crawl .'Won't they mind? 'The men? No. They'll only be rather amused.' They crouched on the creamy shavings, and peered through a three-foot-high opening in the hut. A boy was hard at work with a kind of lathe, which he worked with his foot. A cord from this treadle joined a long arm above his head, which projected through the open end of the hut. The cord was then wound with a single turn round a fresh bar, roughly hewn from a block of beech. This was fixed at both ends into a frame, and as the treadle was worked the vibration of the cord set the bar spinning. The boy held a knife, with which he skilfully chipped at the whirling bar, and the shavings flew in all directions, lay in heaps on the floor, and added to the piles about the walls of the hut. Cicely watched in fascination as the spinning bar grew smooth and round and polished under the quivering cord and clever knife. Now it looked finished but for the beading. The boy dropped his knife and caught up another, and touched the bar as it flew round. Just a touch, a momentary pressure, and the line appeared another touch, and the second was finished.

Cicely turned to Margia in round-eyed amazement. 'How awfully clever! Just a touch, and it's done. Why, the whole thing only takes a minute,' as the boy tossed aside the bar and caught up another.

Elsie's description of the bodgers turning legs and stretchers
(the cross pieces between the legs) in huts in the woods is so
realistic, that she must have actually seen them. If she didn't
I think she may have visited High Wycombe Chair Museum
.You can do this, too. It is a fascinating museum. As
beechwoods abound in the Chiltern Hills and the wood could
be worked unseasoned. The work was done in the woods
where the trees were cut.
They worked in huts like these. Note the pile of
stretchers on the left of the picture.

Mechanisation gradually replaced the old craftsmen. By 1938
only 9 Chiltern bodgers were left and by my childhood in the
late 1950s there were none. The modern chairs have lost a lot
of the character of the earlier ones, as machined symmetry
replaced the individuality and grained strength.


Windsor chairs once considered suitable only
for cottages and servants quarters are now
valuable antiques.


The bodgers Pole- Lathe.
High Wycombe was the chair making 'Capital' of England. Until World War 2 most of the industry in the town was associated with chair and furniture making. All my uncles, great and great great uncles, grandfather and great grandfather (probably even further back) on my mother's side worked in some aspect of chairmaking, although I don't think they were bodgers. Even many of the women did work at home. My grandmother caned seats of chairs for sixpence.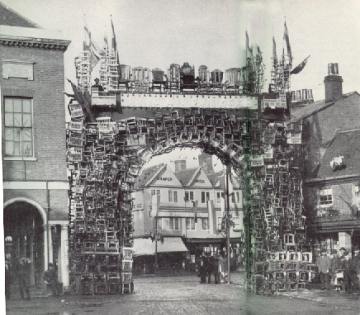 Here is a picture of an arch made entirely from chairs in the High Street next to the Guildhall.
This was done on important occasions.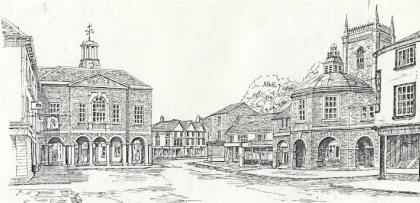 The same view (drawn from further back) on an ordinary day.
This part of the High St has not changed much.
Views of three hamlets or villages in the hills
around High Wycombe.

The original Hamlet girls lived in hamlets like
these. Cicely and Joy and the rambling club
would have visited them.
Beautiful Burnham Beeches and Black Park Lake (top left),
where Joy often took the London children for a drive.
Lacemaking was another craft industry in the Bucks area. You will remember Joy gave Joan some handmade lace done by an old lady in one of the villages. Joy had often watched her work. The lace was pillow or bobbin lace which has had a resurgence in popularity in recent years along with other crafts.
| | |
| --- | --- |
| Bobbin lace making. | It was probably of a type called BUCKS POINTas it was very popular (originally exclusive to this area).Here is a picture (I have put green paper behind it to show up the pattern) of some given to me by my great Aunt. It was made for her by an old lady in 1920. |
Left - daffodils, below - bluebells
and right - primroses in the woods

| | | |
| --- | --- | --- |
| Two interior photos of the ancient church at Little Missenden | | Cottages at Little Missenden |

Trains are featured in most Abbey books and
anyone coming to High Wycombe from London
then would have caught the train from either
Marylebone (left) or Paddington (right).
Now, most if not all the trains leave from
Marylebone .

Chinnor station

Wendover


A Chiltern village church

Lacey Green


Red Lion - Whiteleaf where Cicely stayed with
father on her first visit
If you would like to stay there too check out their
website

Princes Risborough Station where the Abbey
girls caught the train many times


The Vale of Aylesbury from Coombe Hill

West Wycombe Village


View from Bledlow Ridge

Lacey Green from Bledlow Ridge
An account of the Somerset Abbey group of their 1999 trip to Buckinghamshire.
by Betula O'Neill
Our local collectors group went to Buckinghamshire two years ago for an Abbey weekend which I had (mostly) planned and arranged. We had some hair-raising moments, (including an altercation with a holly bush, my mother climbing up a signal pole at Princess Risborough railway station and an early morning emergency dash to hospital with a dying man) but everyone seemed to enjoy it. As well as the above escapades - which I claim were merely my way of being true to the spirit of the Abbey books, we saw lots of Abbey sites, talked, ate, laughed, and bought books!
Having decided that we wanted to visit Bucks again as a group, Sally Dore and I volunteered to organize the trip. Sally found us super accommodation which had all the necessary facilities - which we did not have on the last trip! (Inside toilets, working showers - that sort of thing!) We made plans for the weekend, but also asked people to mention anything they would particularly like to see. The following account is as accurate as I can make it.
Friday Evening.
Four of us arrived at Little Grove in Chesham at 5.45 pm, to find that Ruth Allen, the editor of The Abbey Chronicle had beaten us to it! Once Joy (Wotton) and Joan (Ellard Smith) had been collected from the station (very appropriate for an Abbey weekend, I thought!) our group of fourteen was complete. We talked, ate, talked, had the rules of the place explained to us by our host, Stanley, and then talked some more before bed.
Saturday
Certain people, including my mother, Stella (The Abbey Librarian), and Clarissa were up and talking before 6.30, much to the disgust of the rest of us! Somehow we all managed to have breakfast and climb into the cars by 8.45(ish) and set off for The Cottage bookshop at Penn, whose owner had kindly agreed to open early just for us.
| | |
| --- | --- |
| Penn bookshop | Penn Church |
With fourteen of us it was rather a squeeze, especially round the children's section. I was lucky enough to find two of Noel Streatfeild's 'Baby of the Month' books, 1st Ed. in D/W's, so I was happy! Almost everyone bought books there and we adjourned to the village green for one of Sally's world-famous cakes (spiced apple with a yogurt icing)! Licking our sticky fingers we made our way to the nearest pub, to use the toilets!
From Penn we made our way to Whiteleaf (failing, just as Cicely Hobart did in Hamlet Club, to recognize Green Hailey as we went through it). At the Red Lion we managed to fill the dining area and eat a good lunch before making our way on foot, or by car, to Whiteleaf Cross.

View from the cross
to Bledlow Ridge


Cicely's cottage in Whiteleaf


Doesn't look any more like a cross close up than it did in Cicely's day
Having met up with the walkers, Sally produced another of her cakes (a chocolate cake with white chocolate chip icing, this time) and we munched away as we admired the view across Princes Risborough, Monks Risborough and sundry villages. Once recovered from our exertions - it's hard work; eating and talking - we paid a quick visit to Princess Risborough Station, where the Abbey crowd used to change trains for Wycombe. Then drove on to Hampden House - the home of Cicely Hobart's hero, John Hampden - for a quick peek at the house and the outside of the church. After this we visited the church at Little Missenden, which was shown to us by a friendly and knowledgeable church warden
| | | |
| --- | --- | --- |
| Little Missenden Church | Hampden Church | Hampden House |
. By this time we were pretty tired, so we turned back to Chesham for dinner, followed by some country dancing for the hardier souls among us. Five of us managed to stay up until midnight, but sadly we were still too full to indulge in a Midnight Feast!
Sunday
| | |
| --- | --- |
| We had to leave base at 8.30 as we were going to the 'Ancient Church at Radnage' for the 9.15 am service. The church is very small; the congregation of about 25 people almost filled it, and is really well worth a visit. We all enjoyed the service. The five people who didn't go to church with us kindly cleared and cleaned our accommodation before meeting us at Radnage for one of Sally's cakes. This one - carrot cake with a lime icing - out-did all the others and was speedily devoured before we loaded up once more and made the trek to The Carpenters Arms at Slapton, for lunch and a visit to the book barn there. | Radnage church |
We had almost forcibly to drag everyone away from the books so that we could dash back to Chinnor to meet Madeleine Smith, who had offered to show us a place from which we could see both Bledlow Cross and Whiteleaf Cross. Finally we returned to Madeleine's house to consume some chocolate bars - made by Sally, of course! Various people had trains to catch, so we made our farewells and separated for the journey home, exhausted, but definitely *not* hungry!
This trip makes me envious and wish that Bucks was not quite so far away - Barbara

Speen - Chiltern Hamlet


Chinnor - 'Whiteleaf' village
church -you can imagine
Nanta's wedding
here in the '30's.


Whiteleaf Cross - aerial photo

In the Black Park - visitors walk around
the lake where Margia spent time painting.


Red Lion , Whiteleaf from a
different angle.


Picnic above Whiteleaf Cross - a
group of foreign students enjoys
the view and the breeze.
OTHER LOCATIONS OF EJO BOOKS
Buckinghamshire & Oxfordshire - Cumbria, Lancashire & Merseyside - Other Counties - Overseas - Scotland - Somerset - Sussex & Surrey - Wales - Yorkshire & Derbyshire
Back to main Abbey page and index of EJO items.
Back to Collecting Books & Magazines.
bc