For amendments, if the links don't work, or you have problems with any of the clubs listed, please email John chiefchook@gmail.com . This page includes details of former clubs and magazines no longer in operation purely for historical reasons.
THE ABBEY CHRONICLE ( for Elsie J Oxenham collectors) : sae/irc to Ruth Allen, 32 Tadfield Road, Romsey, Hampshire, SO51 5AJ, UK abbeybufo@googlemail.com
Web page http://sites.google.com/site/ejosociety/ Updated 1.09
THE ABBEY GATEHOUSE (for Elsie J Oxenham collectors): contact Jane Webster, 6 Dresdan Court, Palmerston North, New Zealand - thirzajane@xtra.co.nz (For Elsie J Oxenham collectors.)
THE ABBEY GIRLS OF AUSTRALIA is a club for all those interested in girls' authors, especially English writer, Elsie Jeanette Oxenham. 'EJO' as she is commonly known wrote more than 80 girls' stories between 1907 and 1959 and thus spanned several generations. The club has available for loan copies of all books except for the most common so-called 'Seagull' titles, published by Collins and still readily available in secondhand bookshops. The yearly membership of $14 includes 4 issues of the club newszine, THE ABBEY GUARDIAN, A5 in size. generally 32 pages. Please Email Barbara for info and an application form. ok 1207
THE AIDENSFIELD CHRONICLES was an occasional Australian newsletter devoted to the Constable books and the TV show based upon them, HEARTBEAT. No longer in production. See HEARTBEAT and YOUR PAGE AUTHORS' INTERESTS. ok 206
ALL HALLOWS (Ghost story society?) Web page http://www.ash-tree.bc.ca/GSSahinfo.html
ANCIENT & MEDIEVAL HISTORY BOOK CLUB Web page http://www.ancienthistory.co.uk/aff2/
ANDROMEDA Spaceways http://www.andromedaspaceways.com/ Australia's Pulpiest SF Magazine!
ANNE OF GREEN GABLES SOCIETY Web page http://geocities.com/tbrick_2000/anneclubs.html
ARTHUR RANSOME SOCIETY. http://www.arthur-ransome.org/ar/
JANE AUSTEN SOCIETY http://www.janeaustensoci.freeuk.com/
THE AUSTRALIAN SCIENCE FICTION ASSOCIATION meets regularly in Sydney, usually in members' homes, and publishes an occasional newsletter as well as guides to current SF books. Details available from GPO Box 4440, Sydney NSW 2001. Details about EDGAR RICE BURROUGHS club also available from this address.
AUSTRALIAN BOOK COLLECTOR was the magazine of the Australian secondhand book trade, serious collectors, libraries and researchers. It is useful for all book and magazine collectors. DISCONTINUED AS A REGULAR PUBLICATION AS FROM APRIL, 2002. Please write to ABC, PO Box 2, Uralla NSW 2358. Phone (067) 78 4682 or fax (067) 78 4516. Email burnet@ozbook.com
BEANY MALONE (For Collectors of Lenora Mattingly Weber ) listserv. email Michele Blake at mfranck@delphi.com
BEATRIX POTTER SOCIETY: sae/irc to Irene Whalley, High Banks, 26 Stoneborough Lane, Budleigh Salterton, Devon EX9 6HL, UK. Web page http://www.beatrixpottersociety.org.uk/
THE BETSY-TACY SOCIETY ( for collectors of Maud Hart Lovelace): sae/irc to Michele Blake, PO Box 206, North Easton, MA 02356, USA
THE BIGGLES ASSOCIATION OF AUSTRALIA (BAA), the offical registered organisation in Australia and New Zealand for enthusiasts of the works of Captain W.E. Johns; now closed.
BIGGLES FLIES AGAIN: sae/irc to Marie Scofield, 3 Hunters Way, Springfield, Chelmsford, Essex CM1 6FL, UK. Web page http://website.lineone.net/~biggles.uk/
The BOOK COLLECTORS' SOCIETY OF AUSTRALIA Active since 1944, the Society is a focus for collectors to meet and share their enthusiasm for books of all kinds. / There are four meetings a year, with a guest speaker, often one of the members, who shares with others some of the treasures of his or her collection. (By 'treasures' we don't necessarily mean rare and expensive books, though if you have some of those we'd love to know about them; we mean books which are special to you.) / The last meeting of the year is traditionally the 'Show and Tell' meeting, when members are invited to bring an item from their collection and talk about it for a few minutes. It's always a lively and interesting meeting. / Members receive a quarterly journal, Biblionews, which publishes articles about books and collecting, book reviews, and notes about meetings and news. / We hope you'll join us. The annual subscription is AU$30, but why not come along to a few meetings (there's no charge) and experience the pleasure of being among fellow enthusiasts? We usually meet on Saturday afternoons at the Turramurra Uniting Church hall, near Turramurra station and adjacent to a free car park. / For further information feet free to contact the Secretary, Dr Mark Ferson, 4 Sofala Ave., Riverview NSW 2066 e-mall: m.ferson@unsw.edu.au 02 9428 2863
web site http://bookcollectors.org.au 810
BOOK & MAGAZINE COLLECTIBLES ADVERTISER (BMCA): closed.
The New Australian BOOKPLATE Society was formed in 2006 to promote interest in bookplates (or ex libris) both historical and contemporary. The Society currently has a membership of 50-60, drawn from most states of Australia and New Zealand, who are artists/ designers, collectors or just love the idea of the bookplate.
Subscriptions for 2008 are $30. The Society issues a quarterly, full- colour, illustrated Newsletter which often has an actual bookplate inserted in it. Members are encouraged to exchange bookplates, and a
Members' Directory with original bookplates is planned for late 2008. Occasional meetings are held in Sydney with guest speakers.
The Society's website. http://www.stoplaughing.com.au/bookplatesociety/
Enquiries are welcomed - please contact the President, Dr Mark Ferson on 02 9428 2863 or m.ferson@unsw.edu.au or the Secretary, Mary Keep at marykeep_tnabs@bigpond.com 808
The BRONTE Society - bbarnes@ozemail.com.au
JOHN BUCHAN SOCIETY http://www.johnbuchansociety.co.uk/
THE CHARLOTTE M YOUNG FELLOWSHIP: sae/irc to Jean Shell, 78 Sunningfields Road, Hendon, London NW4 4RL, UK
CHILDREN'S BOOKS HISTORY SOCIETY (mainly literary children's fiction): sae/irc to Pat Garrett, 25 Field Way, Hoddesdon, Hertfordshire EN11 OQN, UK
CHILDREN'S Literature in Education http://www.kluweronline.com/issn/0045-6713
COLLECTORMANIA is a monthly (11 a year) newspaper ( now $3 an issue in Aust.) available at most newsagents in Australia and New Zealand. Lists (free) classifieds for private collectors, news, articles, fair dates and club events. Available at newsagents and now owned by The Trading Post.
COLLECTORS' DIGEST (FINAL ISSUE: APRIL, 2005) was edited by MARY CADOGAN. Now past its 50th year of publication, its articles, stories and pictures cover many aspects of old children's books, story papers and comics. There are regular features on popular characters such as HARRY WHARTON, BILLY BUNTER & CO of GREYFRIARS SCHOOL, JUST WILLIAM and a variety of fictional detectives from SHERLOCK HOLMES, SEXTON BLAKE and NELSON LEE to VALERIE DREW, the violet-eyed teenage sleuth from the Schoolgirls' Weekly. BESSIE BUNTER of Cliff House and BETTY BARTON & CO of Morcove are celebrated, together with items on DIMSIE and other leading lights from girls' weeklies and books. Mary Cadogan, Editor, Collectors' Digest, 46 Overbury Avenue, Beckenham, Kent BR3 2PY, UK.
CD Extracts; so many to chose from that I've picked some to appeal to both fans of books and pets.
From CD Annual #26, 1972 Some Thoughts of an Amateur Archivist by W. T. Thurbon
From CD Annual #23, 1973 Mr Softee by "Eric Fayne" (CD editor's cat)
CD; Eric Fayne's Mr Buddle stories, set at Slade; list as per the 1980 CD Annual.
A Matter of Principle (CDA 1981)
Mr Buddle's Adopted (CDA 1980)
No End in Sight
Mr Buddle Reads Again
Mr Buddle's Hair Shirt
Merry Christmas, Mr Buddle
Mr Crayford Passes By
The Boy in the Corner
Advantage, Vanderlyn
Mr Buddle Laughs Last
Christmas with Meredith
Mr Buddle Meets the Magnet
D'Arcy Maximus of Slade
Mr Buddle's Greatest
Mr Buddle's Christmas Case
A Mystery at Slade
The Buddle Pavilion
Mr Buddle's Locum
The Spirit of Slade
Mr Buddle's Old Flame
The Meredith Letter
The Boy with a Lantern
Tammadge
The Everslade Empire
The Haunting of Mr Buddle
The Tell-Tale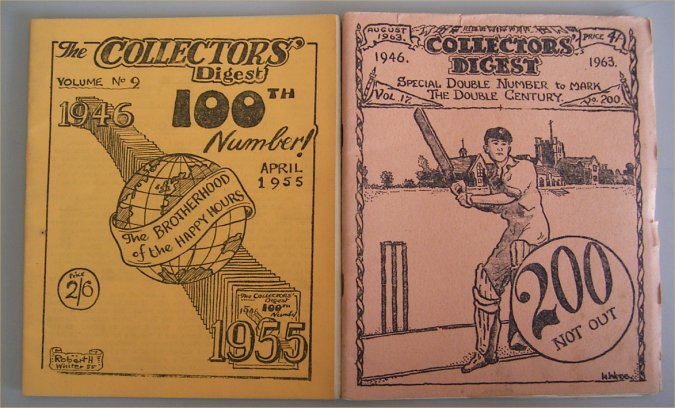 THE SPECIAL BUMPER ISSUES OF THE CD CELEBRATING THE 100TH AND 200TH ISSUES.
CROMPTON, RICHMAL - ANNUAL WILLIAM MEETING: sae/irc to David Schutte, Waterside, 119 Sussex Road, Petersfield, Hants, GU31 4LB. Tel 01730 269115 Fax 01730 231177.
WARWICK DEEPING APPRECIATION SOCIETY - Now closed due to the passing of Geoffrey Gillam, UK.
The DICKENS Society of NSW - bbarnes@ozemail.com.au
DOROTHY DUNNETT http://www.plokta.com/pnn/stories.php?story
The DYLAN Thomas Society of Australia - Clivewoosnam@hotmail.com
The EAGLE SOCIETY http://www.croatianmall.com/lupic/dandare/eagle-society.htm Anyone with any Eagle related enquiries or an interest in the Eagle and the writers and artists who contributed should join the Eagle Society who publish a quarterly journal, the Eagle Times. Subscriptions are £17 in the UK, £21 overseas (surface; £25 airmail), and it is absolutely well worth the money. For more details contact the subscription secretary: Keith Howard, 25a Station Road, Harrow, Middlesex HA1 2UA, United Kingdom.
ENID BLYTON ANNUAL MEETING: sae/irc to Norman Wright, 60 Eastbury Road, Watford, Hertfordshire WD1 4JL, UK
ENID BLYTON SOCIETY http://www.enidblytonsociety.co.uk/ sae/irc to Norman Wright, 60 Eastbury Road,Watford, Hertfordshire WD1 4JL, UK
EDITH NESBIT SOCIETY: sae/irc to Margaret McCarthy, 73 Brookehowse Road, Bellingham, London SE6 3TH.
THE EPHEMERA SOCIETY Inc. is for all collectors of day to day disposable items. The club newsletter is excellent and unique. Fairs are held as well as exhibitions and tours of interesting places. Details are available from PO Box 927, Templetowe VIC 3106.
FEDERATION OF CHILDREN'S BOOKS http://www.mcmail.com/
FOLIO SOCIETY http://www.foliosoc.co.uk/
FOLLY (Fans Of Light Literature for the Young) - Folly is not a fanzine, though fans read it. It's not a scholarly journal, though it publishes original research. It's not simply a frivolous bit of froth, though there's plenty to make you laugh. It has elements of all these things, and tries to provide a mix of them every four months. Folly was founded, and is still edited, by Sue Sims and Belinda Copson, who love children's books, and especially girls' school stories. We've had articles about many school story writers, from Elinor M.Brent-Dyer to Antonia Forest and from Nancy Breary to Evelyn Smith. We've had short stories, poems, lots of articles on collecting, and plenty of silly pictures and competitions. It's surprising how much one can get into 44 A5 pages. Email Sue Sims for more information Sue@sims.abel.co.uk Closing this year, 2010.
THE FRIARS CLUB and THE FRIARS' CHRONICLES For information contact: info@friarsclub.net . Or post West Lodge, 47 The Terrace, Wokingham, Berkshire. RG40 1BP. United Kingdom. (With the usual two IRC's.) The new Club web address is www.friarsclub.net (the old address has a link to the new). There are now over 150 pages of simple data about Frank Richards on the site to date. 1203
FRIENDS OF THE CHALET SCHOOL is one of two clubs for fans of English author Elinor Brent-Dyer, who wrote several series of girls' stories over a 40-year period. The club issues 4 newsletters a year. Friends of the Chalet School: sae/irc to Ann Mackie-Hunter or Clarissa Cridland, 4 Rock Terrace, Coleford, Bath BA3 5NF or e-mail focs@rockterrace.demon.co.uk .
The GIRL'S OWN PAPER, published in London, UK, started as a quarto-sized monthly and Annual in 1880; it continued without a break until 1941, when wartime restrictions on paper meant it had to become a thin A5-sized monthly. I have been collecting the bound annual volumes, 1880-1941, for many years, and once the collection was complete I set out to index them, first for fiction, then for non-fiction. These two 'indexes' or 'contents lists' have now been placed on the Web. The indexes with supporting material can be seen at
< http://www.mth.uea.ac.uk/~h720/GOP/ >
THE HENTY SOCIETY: sae/irc to Ann King, Fox Hall, Kelshall, Royston, Hertfordshire SG8 9SE, UK
GEORGETTE HEYER http://www.georgette-heyer.com/
The JANE Austen Society of Australia (JASA) - info@jasa.net.au
THE JENNINGS SOCIETY: sae/irc to Darrell Swift, 37 Tinshill Lane, Leeds LS16 6BU, UK\
Annual W.E. Johns Meeting contact Alison Thompson at Wendover, Windy Harbour Lane, Bromley Cross, Bolton BL7 9AP U.K.
The JUST WILLIAM SOCIETY is for fans of Richmal Crompton's books.. sae/irc to The Treasurer, c/o Black Cat Bookshop, 36-39 Silver Arcade, Leicester LE1 5FB, UK
KIDLIT NEWSLETTER: sae/irc to Martha Rasmussen, Box 1488, Ames 1A 50014, USA
KINDRED SPIRITS OF P E I: sae/irc to Lyndell Classon, Kindred Spirits of P E I, Avonlea, Prince Edward Island, Canada COB 1MO (for L.M. Montgomery collectors)
The KIPLING Society of Australia - dwatts@pacificlabels.com.au
DH LAWRENCE Society - ssfs@NSA.com.au
LE QUEUX MAGAZINE was the journal of The William Tufnell Le Queux Society which was founded in 1996 to commemorate and delve into the life and times of The Master of Mystery - William Le Queux. WLQ wrote some 200+ books between 1880 - 1927 (a couple were published posthumously). Mainly romantic spy thrillers, he drew for much of their background on his real and imagined contacts with the nobility and minor royalty of Europe in his many journalistic travels across the continent. The magazine was a combination of erudition and lightheartedness and owed its inception to his great-niece Yvonne Le Queux. Sad to say that the William Tufnell Le Queux Society is no longer in existence. We ran for a number of years and produced many quarterly magazine that continued the interest in and understanding of Mr. Le Queux, his works and his life. Donald V Campbell (Editor & Publisher) July, 2009
LEWIS CARROLL SOCIETY OF DARESBURY: sae/irc to Kenn Oultram, Clutterwick Hall, Little Leigh, Northwich, Cheshire CW8 4RJ, UK
LEWIS CARROLL SOCIETY: The contact address: 50 Lauderdale Mansions, Lauderdale Road,
London, W9 1NE , UK The website http://lewiscarrollsociety.org.uk OK12.06
THE LEWIS CARROLL SOCIETY OF NORTH AMERICA: sae/irc to Prof David H Schaefer, 617 Rockford Road, Silver Spring, MD 20902, USA
LIGHT'S LIST of literary magazines for readers and writers (esp. sf, fantasy and horror): the 1997 edition contained names and addresses of over 1100 small press magazines for prose/poetry/art, 48 pages A5 format. Cost UK is one pound 25p inc postage, US $4 surface or $5 air, or equivalent in local currency. Available from: John Light, The Light House, 29 Longfield Road, Tring, Herts. HP23 4DG, UK.
LOYAL (young adult and children's literature, pre 1970s): sae/irc to Anne Quast, 206 Milne Road, Modbury Heights, SA 5092, Australia anneq@senet.com.au
THE MALCOLM SAVILLE SOCIETY, 10 Bilford Road, Worcester WR3 8QA, UK. Malcolm Saville was the son of a Hastings (UK) bookseller who grew up with a love of books. He wrote his first children's book in 1942 and was most famous for the Lone Pine series, set in Shropshire. This club produces an A5 newsletter - 'Acksherley' - 3 times a year, and holds an annual gathering which including meeting members of Malcolm's family. UK membership is £7.50 overseas £12. Membership is now around 300 and the club is gearing up to Saville's centenary in 2001
Email - strangers@witchend.demon.co.uk
The NEW CHALET CLUB The New Chalet Club will be 10 years old in May 2005 and has a quarterly Journal - often with a supplement on a particular subject. Local meetings of Chalet fans are held throughout the U.K. and are publicised through our quarterly Journal. The New Chalet Club Journal is printed in December, March, June and September. The club holds its A.G.M. every year in mid-September to early-October, and also arranges one main event at another point in the year. No details received since 2005.
Northern Old Boys' Book Club address: http://www.caldicott.demon.co.uk/nobbc.htm or email nobbc@calidicott.demon.co.uk
OBSERVERS POCKET SERIES COLLECTORS SOCIETY (OPSCS). The pocket-sized Observers series of books, published on 97 different titles since the late 1930s with many titles still in print, have a club with members in Australia and New Zealand, as well as in the UK. You can write to the Secretary/Treasurer, Alan Sledger, 10 Villiers Road, Kenilworth, Warks. CV8 2JB, UK. Phone 01926 857047. An informative A5 20 page quarterly newsletter (as from Jan 1998 this will be replaced by an A4 sized information broadsheet) is included in the membership. CHECK FOR CURRENT RATES.
THE FOLLOWERS OF RUPERT: sae/irc to Shirley Reeves, 31 Whiteley, Windsor, Berkshire SL4 5PJ, UK http://www.ee.ed.ac.uk/~afm/rupert/frames.html
DOROTHY L SAYERS SOCIETY http://www.sayers.org.uk/
SERENDIPITY: sae/irc to Carolyn Denman, 3 Dudwell Cottages, Camrose, Haverfordwest, Dyfed, SA62 6HJ, UK ( for Dorita Fairlie Bruce collectors)
SHERLOCK HOLMES SOCIETY http://www.sherlock-holmes.org.uk/
STORY PAPER COLLECTORS' DIGEST - SEE LISTING UNDER COLLECTORS DIGEST above.
SUN HILL SOUTHERN SPECIALS was devoted to the Thames tv series THE BILL and included the collection of written material on the series. Now in Suspension.
THE SOCIETY OF PHANTOM FRIENDS: (general girls' series, mostly American) sae/irc to Kate Emburg, 4100 Cornelia Way, North Highlands, CA 95660, USA
THE SYDNEY PASSENGERS is a SHERLOCK HOLMES society which holds meetings in various Sydney taverns and restaurants. Members also stage re-enactments in the Blue Mountains of the famous Holmes - Moriarty confrontation at Reichenbach Falls, complete with period costumes, sumptuous meals and occasionally a steam-hauled rail journey. Details from 19 Malvern Avenue, Manly NSW 2095. bbarnes@ozemail.com.au OK 508
THYME, the Australian SF News Magazine, also includes AUSTRALIAN SF NEWS with information on current local book releases and book reviews; ARTYCHOKE which showcases artists, edited by Ian Gunn; and ANSIBLE, David Langford's newszine. THYME is published bi-monthly by Alan Stewart. The editorial and subscription address is: PO Box 222, World Trade Centre, Melbourne Vic 3005, Australia.
THE VIOLET NEEDHAM SOCIETY http://www.violetneedhamsociety.org.uk OK12.06
JUST WILLIAM SOCIETY http://www.sharpsoftware.co.uk/william/society.htm
YELLOWBACK LIBRARY: (girls' series, mostly American) sae/irc to Gil O'Gara, PO Box 36172, Des Moines IA 50315, USA