bc
George Davidson 'Warwick' Deeping, the Master of the early 20th Century Romance, Eastlands, Weybridge, Surrey, England, United Kingdom
NEW! The Lost Stories Of Warwick Deeping -Volumes I, 2 and 3 are available from Amazon.
Volume 1 Review
It took me a few months to read this mighty volume of 567 pages. The final 3 pages include details of where and when each of the 42 short stories were published. The author tested out plot lines and characters in some of these stories that would later be used in novels. Whether your interest is in historical fiction set prior to the Great War or later, you'll find much enjoyment and pleasure in this fine collection. I can thoroughly recommend it, not only to fans, but to all discerning readers. John; July, 2014.
George Davidson Deeping was a doctor and the son of a doctor, so it came as no surprise when Warwick went on to study medicine at Trinity College, Cambridge, after having been schooled at Merchant Taylor's and later by tutor. In 1898 he obtained both his Bachelors of Medicine and Arts, adding a Master of Arts four years later before spending his formative years in London's Middlesex Hospital. He left a fully qualified doctor, having only toyed with writing poetry. Writing as a full time occupation wasn't far away as he soon felt the need to write an historical romance, a genre which was in vogue towards the end of the nineteenth century.
So successful was Warwick that doctoring was cast aside: he began to write full time. He and his wife, Maude, moved to a small country property in the county of Sussex where an interest in designing gardens also blossomed into a successful venture. The happy couple eventually constructed their own house and this experience would serve Warwick well in the plots of his future novels. With the arrival of the Great War, Warwick once again took up the mantle of doctoring: he spent four years in the Army Medical Corps, serving in Belgium, Egypt, France and Gallipoli. His experiences during those horrific years changed his views on life. From now on he would write contemporary novels around people he had met and would go on to meet throughout the rest of his life, which ended at the age of 72 on April 20, 1950.
| | |
| --- | --- |
| These two photos of Warwick (and Maude, above) were taken at Eastlands during the 1930s. | |
Eastlands, Weybridge, Surrey, England, Warwick Deeping's home. "As you leave the front gates and walk along the curved, gravelled drive, through trees and scrubs, you come to the front garden and see this front view of the house."
Photo: Geoff Towne, February, 1999. Note: this house is NOT open to the public so please do not trespass!

Woking Crematorium, Woking: the Remembrance Gardens where Warwick Deeping's ashes were scattered. "Note the spring flowers and seats for meditation."
Photo: Geoff Towne, February, 1999
Although Warwick Deeping disliked being interviewed and attending official functions connected with his writing, he did write an illuminating entry for the 1942 edition of 'Twentieth Century Authors'. His appeal to several generations of readers can perhaps be summed up in the following: "...One set out to see life and its realities, its pathos and heroism, and I have managed to find it more splendid than sordid. A negative cynicism seems to me to be a form of cowardice."
Useful REFERENCES
'Dictionary of Literary Biography: Vol.1'
'Twentieth Century Authors' by Kunitz & Haycraft, W Wilson, NY 1942
bc
The ARGOSY

Warwick Deeping was a regular contributor to the US pulp magazine, The ARGOSY during the interwar years.

July 1931 (left) contained a
SULVA JOHN piece.

September 1933 (right) SIX MONTHS TO LIVE, bi-lined as "Great Human Problem Stories 2".

bc
Warwick Deeping's most popular novel was SORRELL AND SON. This monumental work made his name a household word not long after publication and went through countless reprints. First published in 1926, Pan brought out this paperback edition in 1956. Penguin followed suit with a TV tie-in 20 or so years later.

The dedication by the author in this book:
'To the memory of my father'.
The WARWICK DEEPING APPRECIATION SOCIETY is no longer in operation as Geoffrey Gillam sadly passed away in 2008. If anyone else takes over the society's operations, I'll post the details here. Thanks to Andrew for updating me on this matter. John
Geoffrey reported that while visiting Southend, he discovered that it was the setting for SLADE and MR GURNEY AND MR SLADE. "One could take the book and follow the story from street to street and in most cases from building to building."
"The same sort of thing happened when I had to go to Islington... Having read OLD WINE AND NEW and being a little early I turned left, instead of right, at Essex Road station and walked to Canonbury Square, passing on the way various places mentioned in the book."
WARWICK DEEPING'S NOVELS, all published in the UK by Cassell.
List in alphabetical order ignoring 'A' or 'The' [LINKED to reviews]
Note: Meryll Williams and Gary Rohrer have kindly provided details of alternative titles for certain books. D M Young also noted a couple of omissions. Thanks for your interest. Where I've sighted a book, I've treated it as the 'known' title. If you come across books with the alternative title, please forward details as to publisher and date published.
APPLES OF GOLD, 1923+
BERTRAND OF BRITTANY, 1908
BESS OF THE WOODS, 1906+
BLIND MAN'S YEAR +
CAROLINE TERRACE +
CORN IN EGYPT +
COUNTESS GLIKA & other Stories +
DARK HOUSE , THE +
DOOMSDAY +
EXILES, 1930+
FANTASIA +, aka 'Blue Water'
FOLLY ISLAND, aka 'Shabby Summer'
FOX FARM, 1911+, aka 'The Eyes of Love'
HOUSE OF ADVENTURE, THE, 1921
HOUSE OF SPIES, THE, 1913
I LIVE AGAIN +
IMPUDENCE OF YOUTH, THE +
JOAN OF THE TOWER, 1911
KITTY + 2 reviews
LAME ENGLISHMAN, THE, 1910+
LANTERN LANE, 1921
LAUGHING HOUSE +
LOVE AMONG THE RUINS, 1904
MAD BARBARA, 1908+, aka
'These White Hands'
MALICE OF MEN +
MAN IN CHAINS +
MAN ON THE WHITE HORSE, THE
MAN WHO WENT BACK, THE
MARRIAGE BY CONQUEST +
MARTIN VALLIANT, 1917
MR GURNEY AND MR SLADE, aka 'The Cleric's Secret' +
NO HERO, THIS + 1936 review
OLD MISCHIEF
OLD PYBUS, 1928
OLD WINE AND NEW +
OLD WORLD DIES, THE +
ORCHARDS,1922, aka 'The Captive Wife' +
PARADISE PLACE
PORTRAIT OF A PLAYBOY +
PRIDE OF EVE, THE +
PROPHETIC MARRIAGE, THE, 1920
RED SAINT, THE, 1909
REPRIEVE +
RETURN OF THE PETTICOAT, THE
ROAD, THE + +, aka 'The Ten Commandments'
ROPER'S ROW +
RUST OF ROME, THE +
SACKCLOTH INTO SILK,+ aka 'The Golden Cord'
SECOND YOUTH +, [aka 'The Awakening'
SECRET SANCTUARY, THE,
SERPENT'S TOOTH, THE
SEVEN MEN CAME BACK.+
SEVEN STREAMS, THE, 1905
SHABBY SUMMER
SHIELD OF LOVE, THE, 1914, aka 'The King Behind the King'
SHORT STORIES OF W D, THE See SHORT STORIES
SINCERITY, 1912, aka 'The Challenge of Love' aka 'The Strong Hand'
SLADE +
SLANDERERS, THE
SMITH +
SORRELL AND SON, 1925*
STORIES OF LOVE, COURAGE AND COMPASSION
SUVLA JOHN + Also appeared in THE ARGOSY, July, 1931
SWORD AND THE CROSS, THE +
THREE ROOMS +
THREE STORIES OF ROMANCE contains 'Martyrdom'
TIME TO HEAL
TWO BLACK SHEEP
TWO IN A TRAIN, AND OTHER STORIES
UNREST, aka 'The Bridge of Desire'
UTHER AND IGRAINE
VALOUR +
WHITE GATE, THE
WOMAN AT THE DOOR, THE +
WOMAN'S WAR, A
*SORRELL & Son. Mention in CD 448 (4/1984) of a movie starring H B Warner , seen in April 1934.
Note - 'These White Hands' may be an alternative title so I've not included it above.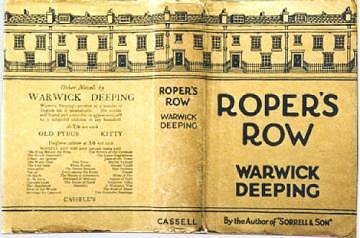 MAGAZINE CONTRIBUTIONS
See the Christmas number of 'Good Housekeeping', 1930, which contains "Making the Best of Life', in which WD maintains that "to get the best out of life one must begin with some sort of purpose. We must begin by wanting something that is worthwhile, and by setting ourselves passionately and stoutly to possess it."
MOVIE TIE-INS
* There was a silent film of SORRELL AND SON produced by United Artists starring H B Warner, and a 1933 sound version (also with H B Warner). The only way to see these films at the moment is at the BFI. (British Film Institute.) The BFI also holds films of FOX FARM 1922 and KITTY 1929.
* Meryll W recently advised that a version of DOOMSDAY was also filmed, by Paramount in 1928. Production Credits: Director and Producer Rowland V. Lee; Scenarist Donald W. Lee; Adaptation Doris Anderson ; Photographer Henry Gerrard; Editor Robert Bassler; Titler Julian Johnson. Cast: Mary Viner Florence Vidor; Arnold Furze Gary Cooper; Percival Fream Lawrence Grant; Captain Hesketh Viner Charles A. Stevenson. There's a 2-page spread with photos in Homer Dickens' 'The Complete Films of Gary Cooper' (Citadel 1970/1991).
* From inthetwilightzone@gmail.com [TWO] BLACK SHEEP was made into a 1930s movie called Two Sinners. Ending apparently a bit different than the book. One of the first releases of newly-formed Republic Pictures, Two Sinners was adapted from The Black Sheep, a serialized magazine story by Warwick Deeping. Otto Kruger stars as Henry Vane, who uncomplainingly serves a lengthy prison term for shooting the cad who compromised Vane's wife. Hoping to leave his past behind him, Vane falls in love with Elsie Summerstone (Martha Sleeper), the governess for bratty Sally Pym (Cora SueCollins). Thanks to the infidelities of Sally's mother (Minna Gombell), Vane is unable to stay out of trouble for long. In true "Shirley Temple" fashion, it is up to little Sally to straighten out the storyline. ~ Hal Erickson, All Movie Guide "
TRIVIA
Many thanks to those of you who've added to this list.
From: jmackenzie48@yahoo.com
You may already know about this but whilst I was trawling the web looking for references to the author David Divine I came across a website about the historian Liddell Hart. I scrolled down looking at the correspondence records and discovered an entry about Warwick Deeping and a reference to an obituary. It's at http://www.kcl.ac.uk/lhcma/cats/liddell/li01df.htm
From a reader.
"While reading a novel, The Information by Martin Amis, I noticed that Deeping was mentioned in passing..."
From rainyday@bigpond.net.au
I have recently obtained a book called The imaginary eye-witness. Edited by C H Lockitt, Longmans, Green and Co, 1937. It has 17 excerpts by various writers including Warwick Deeping. His story is called Rome again AD1849. I have also got a magazine called The Storyteller (Canadian, I think) that has a short story called The pool of the satyr. These may be out of books or have been originally printed in short story volumes, but they may be new. I also have another short story called A Christmas Victory in The Fireside Omnibus by Hutchinson, no date.
From John N
In Sebastian Faulks' novel Charlotte Gray - on page 68 the hero notes:
" ... a shelf packed with the novels of Warwick Deeping and Hugh Walpole".
In Bill Bryson's Neither here nor There - his essay on Paris refers to Shakespeare & Co on the Left Bank:
" full of ... and old forgotten novels by writers like Warwick Deeping".
Since I have for many years been the owner of Warwick Deeping's house in Weybridge, I asked Bill Bryson how he picked on Deeping's name. He said his grandmother had a shelf full of his books and he remembered " ... being oddly attracted to that melodic name from an early age".
BOOK REVIEWS (From May, 1998 onwards, book reviews are dated.)
Ratings and short synopses follow, in alphabetical order, ignoring 'A' or 'The'. Ratings will vary from *average to ***exceptional. If you would like to express an opinion on any of WD's books, or take me to task on my ratings, please write in. These short reviews won't spoil any plots and the ratings are purely personal.
APPLES OF GOLD (1923)
Tom Nando is a fencing instructor in 19th century London. He and his wife Mary are given an unwanted child who becomes Jordan, their much-loved son. This books takes the reader through Jordan's life, his sexual awakening and subsequent entanglements, both with women and the Whigs at Ludgate Hill and Fleet Street. This was my first foray into WD's historical romances. With two dozen WD novels on my shelves, I made the possibly silly decision to read them in alphabetical order! It took a couple of chapters before I was hooked. **
BERTRAND OF BRITTANY (1911) Reviewed November, 2000
This romance is set during the Fourteenth Century and concerns the awkward and unloved son of a well to do family who falls in love with an eight year old child who displays a kindness towards him. One could descibe it as a 'fine love', a term probably not understood these days. Bertrand sets out to prove himself but it will be many years later before the two meet up again in rather more dire circumstances. An example of the author's unrivalled attention to detail, the reader soon becomeing enveloped in the past as it is written. **
BESS OF THE WOODS (1911) Reviewed February, 2001
Another romance, set this time in the Eighteenth Century. A rich young Richard Jeffray appears destined to marry a local woman of the world but he will spot a lovely Bess of the Woods who will change his way of life. If I'd read this book much earlier I'd have probably given up early on, tired of the descriptive padding which must have bolstered the page count by a hundred pages or more! Enjoyable in parts but not worth even one star.
BLIND MAN'S YEAR (1937) Reviewed November, 1999
It's been many months since I last read a WD novel, and I picked this on the basis that it was the first title on the shelf to meet my eye! A young man is on his way to interview famous author Douglas Gerard. He really needs the interview as his job on the paper is none too secure. Desperation sees him leap the garden fence, only to be confronted by a rather large Alsatian. He does obtain an interview of sorts, though neither he nor Gerard come within sight of each other. He does discover that Gerard is in fact a woman. She lives a secluded life, being afflicted by a facial birthmark. Not long after the reporter hurries off with his scoop, a plane crashes nearby. The pilot seems unlikely to survive. The plot of this book is transparent from this point on, but as with many of WD's novels, it is not the plot but the characters who are important. Set in the south of England and later London, it is what I term a 'traditional WD novel'. Lovers of the English way of life, circa 1930, will lose themselves in the book, as did I. Unusual for a WD book, there is at least one loose end: the old neighbour in London who wants to find out more about the couple next door. Some of the dialogue is dated but it earns a *.
CAROLINE TERRACE (1955)
Isabella Luce, a young lovely of the Victorian era with a dark secret, arrives in South End. She takes up residence in room 13 of the Royal Hotel, by Caroline Terrace. This stately street houses the pick of South End by the sea society, with lesser mortals being housed in Caroline Mews -"coarser in speech, prone to drunkenness and brawling". Miss Luce, taken in hand by the eccentric Miss Cripps, soon comes to the attention of the handsome George Travers and the plain and clumsy parson, John Jordan. These characters and a host of others are woven together in a brilliant tapestry of intrigue and adventure. WD's skill in plucking a group of humanity from life and relating each of their stories in turn produces a novel which simply can't be put down. One has to keep reading in order to find out what happens next. More often than not, it's not what one expects, that happens! ***
CORN IN EGYPT (1941)
Grant Carey was a minor member of a firm of chartered accountants when Aunt Jennifer departed this world, leaving him a tidy sum of 5000 pounds. He moves out of Chelsea and goes a tramping, looking for he knows not what. Along the Pilgrim's Way, in a little valley below a chalk ridge, he comes across a notice board proclaiming: "Blackthorn Farm - For Sale". So he moves onto this long abandoned farm, complete with a canvas bath and bucket of water. Seasoned countryman and wanderer Will Wightman soon stops in permanently as Grant's handyman and one day a horrific car crash delivers them a diminutive doggie, Prince Charlie, the only survivor. The story moves along at a cracking pace as the trio attempt to turn the farm into a paying proposition. The daughter of the previous owner comes into the picture and you'll discover exactly what it took to run a farm back in the years after the Great War. This novel marked another first in my reading of WD - it's told in the first person, ostensibly from Grant Carey's diary. ***
COUNTESS GLIKA and OTHER STORIES (1919) Reviewed March, 2006.
'Countess Glika' is but one story. Also contains 'The Red Shirt', "The Girl on the Mountain', The Lady on the Treeace' and 'Bitter Silence'. The first four are set in Europe, are sentimental; syrupy, one could say. Even I could not make it through 'Glika'. If you like olden style love stories, you'll enjoy all but I had to throw in my hand on these four. 'Bitter Silence', though, is easily the pick of the crop. The shortest one here, the experiences of an author who is the only means of support of his extended family and for that reason risks the white feather for failing to answer the call during the Great War. I won't spoil it by teling you any more. So, * for this book, that being for the latter story.
THE DARK HOUSE (1941)
Senior staff at St Martha's Hospital in London believed that Dr John Richmond would one day be a senior surgeon with a five-figure income. Through a series of disastrous events set in motion by his brother's poor investments, Richmond finds it necessary to set up as a GP in Southfleet, forty miles from the city. He joins a two-man practice. Dr Richmond is the dour but fatherly senior member, Dr Burgoyne the more colourful junior partner. The practice is situated in Prospect House, noted for its brass bell handle in the shape of a clenched fist. Dr Richmond, the father of five un-married daughters, is soon to retire. Conditions of Richmond's position include: smoking in public is not permitted; he must not be seen in a public house; he should not be seen out of doors without a top hat; his language must be 'decorous'; no married woman patient could make love to him or be made love to by him, and the "playing of cards or billiards was not advisable". The story moves along slowly but surely and the reader soon becomes lost within the doings of Southport. WD once again sets his story by the sea and brings forth another collection of fascinating true to life characters. **
DOOMSDAY (1927)
Mary Viner was a domestic slave to her sickly but kind parents. Arnold Furze had worked Doomsday Farm, Sussex, 120 acres, for five years, with the help of Will Blossom and his boy. Bobbo the sheepdog and Tibby the black cat were his companions. Furze supplies milk to the Viners and is a man on the land. Mary longs for the pleasures of the city, or at least the pleasures of life off the land as portrayed to her by sister Clare, now residing in London. Oh, to be up in the West End, under the lights! To tell more of the story would spoil it for those readers who haven't yet had the pleasure. This book is split into three parts, which enabled me to spread the reading over three days. WD deplored the move away from the land, and never (not so far, at least) has he portrayed the heroic farmer so well as he has in this book. The critics at the time no doubt regarded this book as overly romantic, old-fashioned, dated, but it's a beautifully crafted story of a time long gone, when man and woman made a success of life on the land - or perished in the attempt. ***
EXILES (1930)
Barbara Irene Brown, 26, arrives at Julie Lord's English Library and Tea Room in the Italian town of Tindaro. I left this book at page 11, as there was something jarring; perhaps it was the racist overtones. Not that I'd criticise WD for that. After all, such views would have been common in Britain at the time. Perhaps one day I'll return to the story. If someone has read the book, please send in a review.
FANTASIA (1939)
Poet John Skelton arrives in Switzerland on a tramping holiday. He meets Ann Lester at the Hotel Schiller. That's as far as I reached. This story is dated but similarly with EXILES, I'll read it one day. A review would be appreciated.
FOX FARM (1911)
Jesse and Kate Falcomer are a couple out of love. There was love in the relationship - once - but it's long gone. Although initially I thought this book would be a replay of DOOMSDAY I couldn't have been further from the truth. The harrowing tale which unfolds as the story progresses had me entranced for hour after hour. To tell more of the plot would spoil the surprise. ***
THE HOUSE OF ADVENTURE (1921) Reviewed October, 2000
Set at the close of the Great War in France. A British tommy swaps identities with a fallen comrade, sets up house in a devastated French village and poses as a Frenchman. The owner of the house falls in love with him but there is a rather nasty local innkeeper who ferments trouble. Highly sentimental and a little difficult to swallow at times. Yet it contains the most horrifying scenes of violence I've come across in a WD book. Well written but recommended only to the seasoned WD admirer. *
I LIVE AGAIN (1942) Reviewed November, 1999
Told in the first person, this book is quite unlike any other WD novel I've read. It covers several generations and can best be described as the journey of the soul of a man as he is reborn, with each successive rebirth giving him a greater measure of wisdom. At the start he is a savage, although with the beginnings of a conscience. It might be seen as an explanation of the British way of life, as the narrative towards the end comes to the then early days of WW2. There is savagery and violence early on, to be replaced by love and compassion as the book draws to a close. So strongly does the story begin, it seems inevitable that the impetus will be lost later on and such proves to be the case. I'd be interested to read your thoughts on this novel. **
THE IMPUDENCE OF YOUTH (1945)
John James is a lad like no other, at least in the village. Miss Pope, his aunt and proprietor of the general store/post office, dotes on this genius of a lad who is afflicted with a growth deficiency which keeps his legs to childlike proportions. John goes off to Cambridge on a scholarship and is treated mercilessly by the other young gentlemen. He is given the nickname 'Tadpole' and finds another aspect of life in Germany. He wants to set up a private laboratory and finds rooms in Unicorn Place in the East End of London. Here he discovers life as it is, or was, and eventually falls in love with Kitty. This is a black story, WD's blast at the class system, those who set out to destroy anyone who refuses to conform and who dares to be different. His pen dipped in vitriol, the author gives Society both barrels. Although many of his books took swipes at the class system, this story may come as a shock to new readers. **
KITTY (1927) Two reviews.
Mrs Clara St.George is an icy widow of London, a woman of affairs used to getting her own way. Displays of emotion are both foreign and repugnant to her. Alex, her only son, home from leave and soon to face the war in the trenches, feels scared and alone. In contrast, Mrs Sarah Greenwood, a doctor's widow who keeps a tobacco shop near Piccadilly, is a cheerful soul who shares life with daughters Coral and Kitty. Alex will walk into her shop and come face to face with Kitty, before going across the channel and returning home a broken man. From there his life will become a tug of war between his mother and Kitty. A really good story which will show you what the seriously injured ex-soldier was up against back in the days before modern medical practices and attitudes helped to improve his chances of a near as possible normal life. The battle of wits between the mother and the lover will keep you reading without a break. Well, it did me, anyway. One of the best and well deserving of the rating. *** Reviewed November, 1999
[Here's a review from a first time reader of WD; Megan Lord, a member of the Abbey Girls of Australia]:
The writing is superb, the descriptions are detailed and believable and you can see War time England from a variety of places and peoples. I am enjoying the book but it gripping me only to know how it will finish. There are more than enough twits and turns. I had to not read a couple of pages when Alex is recovering at his mother's house- so harrowing it was. His characterisation is excellent. At no time are you in any doubt about how he feels himself about these characters he has created or drawn. I think that I would like to read another but not straight away as they are really quite emotional. I usually prefer women authors so this has been a very good example of male writing for me. Not always do I read women but mostly I would say. [Later] I thought it ended in just the right spot except that I by then I wanted to know more!!! July, 2008
THE LAME ENGLISHMAN (1910) Reviewed September, 2000
An historical romance set in Italy, and in particular Rome, c1849 when Garibaldi was fighting to unite Italy. Tom is the Englishman of the title who, despite being physically challenged, throws in his lot with the patriots as they fight to keep the French and Austrians out of Rome. Through his dying mentor he meets the beautiful but married Cesca. To tell any more would spoil the story. Despite not being a fan of historical romances, I thoroughly enjoyed this book which, being one of the author's early novels, will be too sentimental for many modern readers. **
LANTERN LANE (1921) Reviewed October, 2000
This novel is set during the reign of Charles the Second, an often misunderstood king by all accounts. John Fairfax finds himself acting as the go-between for Charles and one of his many loves, Barbara. The great plague plays a part in John getting his life in order as he nurses one of the greatest French fencing masters back to health. Okay, I've admitted I'm not a fan of historical romances. This book, however, kept me turning pages for hours with hardly a break. I expected the story to come laced with an excess of sentimentality. 'The House of Adventure', my next WD book, fell into that group. 'Lantern Lane' is unexpectly lacking in the often double-dose of the foregoing. It is brilliantly written though of course this is as always a personal view. So I'm giving it the order of the box; the BEST so far, apart from 'Sorrell and Son'.
LAUGHING HOUSE (1946)
The story of a house, Beech Hill, built in the year of Waterloo and soon to endure the rigours of the Second World War. Occupied by various units through the early years of the conflict, you'll lament its deterioration at the hands of those with no appreciation of beautiful things. A further story related in the first person, a beautiful and wonderful story of survival. Told by the owner of the house as he is forced to watch from the sidelines. This is indeed a 'laughing house' as it takes everything thrown at it. Although I've an appreciation for fine architecture, I'm not one for loving inanimate objects. A house is but a house. This story really dragged me in. Possibly WD's best work set in a modern period. ***
MAD BARBARA (1908) Reviewed November, 2000
Barbara Purcell discovered her father, dead, a sword through his heart. The only clue to his murderer is a short chain of gold with a knot of pearls for a button, seemingly torn from a man's coat. And so began another historical novel, set in the decaying upper class of England. What depths relatives will step to in the pursuit of love and affection forms the backbone of this story. Yet another good'un from the Master of storytelling. **
THE MALICE OF MEN (1938)
Young John Keats Lancaster had a passion for lead soldiers. His parents kept a draper's shop at Westend on Sea. John and his mother moved to Sandbourn in Sussex upon the death of his father, where she opened a lodging house: no.42, Regal Terrace. The Old Town finished at the Monument, a clock-topped pseudo-classic column which "set a boundary between the rude toilers of the sea and the segregated gentility of Sandbourn's west-end". The ruling family further up one of the valleys among the hills lived in Beaulieu Park, "a serene and stately place that seemed to hang like Olympus in a more majestic sky". And "Beaulieu belonged to the Bullstrodes, and in Sandbourn the name of Bullstrode was the sign and symbol of that other world that lived aloof in a serene arrogance of its own". And then came Sanchia Cherrill. This, again in the first person, is the story of one boy/man's rise to greater things. Brilliantly written with short, clipped sentences while the narrator is still a boy, it takes on a life of its own. Some may consider it a social document on the birth of modern housing developments. I was tempted to re-read it immediately! ***
MAN IN CHAINS (1953)
Jack Cobourn is an ex-fighter pilot who had the misfortune to sustain a broken spine as the result of a crash. A partially successful fusion means he can stand for 20 minutes at a time. With the help of the devoted help, he runs Rose Hill Cottage, their source of income being derived from berry- growing. While he picks from the lower branches in his chair, the others clear the higher growth. Mary Marner is the dowdy but essential office worker and Jill of all trades who dotes of Jack, although he never realises it. Sanchia Craven of Hazeley Manor is a high flier, a mover and shaker in the social whirl, who comes to love Jack as well. You'd expect this to lead to disaster. It does, but out of disaster comes - what? You'll have to read this enjoyable book to find out what. **
MARRIAGE BY CONQUEST (1915) Reviewed October, 2005.
Naive book collector John Flambard returns from abroad to his estate, Chevrons, in southern England. Nearby neighbour and widow, Stella Shenstone, of Stonehill, is courted by not-so-gentlemanly Sir Richard Heron. Flambard is sound of mind and limb, ignorant in the ways of womankind. The Lady will use him in her plans but fall in love and suffer a guilty conscience. Heron will do whatever it takes to rid himself of the new arrival and conquer Stella. The story is set sometime after Cromwell and is entertaining for the first half. Sentimental wanderings and love-making slow things down for about the next hundred pages before the story takes a turn for the better. For WD fans only, unless you're a fan of sentimental love stories! *
MR GURNEY AND MR SLADE (AKA THE CLERIC'S SECRET) (1944)
Reviewed by inthetwilightzone@gmail.com (anonymous coward656)
This story is a sequel to SLADE, but with only a relatively minor appearance of James Slade. The story centers around the new Cleric in Southfleet, Mr. Gurney, who has a secret past, which when disclosed by the town gossips, puts him at odds with all the parishioners at St. Jude's church. Fortunately, Mr. Gurney is taken under the protecting wing off an aging Mr. Slade so that he is able to weather the immediate storm. To help put his past behind him, and prove himself to Rose, the young divorcee featured in SLADE, Mr. Gurney enlists as a padre in the great war, and becomes a most unexpected hero with his men. The story has the trademark Deeping scenes of the carnage and harsh living conditions of life in the trenches in France.
As in SLADE, Dr. Richmond and his family (Lucy and Charlie) from THE DARK HOUSE, are also featured again in this story.
328 Pages. Once you get over the disappointment of the short appearance of James Slade, it's a worthy story in its own right with the vivid descriptions of battle scenes and a love story of a simple, sincere man and an understanding woman. **
NO HERO-THIS (1936) Reviewed May, 1998 (See Australian Woman's Weekly review here.)
Dr Stephen Brent, 35 and in partnership with 53 y.o. Dr Randall, was not quite at ease. Even Stephen's wife, Mary, seemed to be hiding her feelings of late. Their little town of Brackenhurst, hidden away in a quiet corner of Sussex, seemed offended by his non-appearance in khakis. Like many other honourable men of the Great War period, Stephen eventually found himself in uniform. His adventures from Gallipoli to the hell hole of France, the incompetence of the higher ranks, the horrors of trench warfare and the closeness of friendships forged in blood on the battlefields will move you like no other book on the Great War. This novel seems semi-autobiographical, WD having served in the Royal Army Medical Corps in all of the locations mentioned in this book. To quote from the rear jacket blurb of the first edition: "This is a different novel to any other that has ever come from the pen of Warwick Deeping. Some will say that it is the finest novel that he has written, not even excluding SORRELL AND SON. And perhaps they will be right. //Many pens and able have written of the War, of every phase of the War, until there seems nothing left in the War to write about.// But strangely enough, no one has ever written a novel about the life of a doctor in the War. It has remained for Warwick Deeping to do this.// With his deep human sympathy, his wide understanding of men and women which has made his books so universally popular, it was only to be expected that a subject like this would bring a fine book from him. Deeping loved writing this book because he felt every word he wrote.// It is a story of heroism which has its mission for peace." Highly recommended.***
OLD WINE AND NEW (1932) Reviewed September, 1998
Spenser Scarsdale serves as a medical orderly in France during the Great War, just one of the faceless brown crowd. Known as 'Hands' or 'Old Bossy' for his gentleness of touch, Scarsdale is two men: the One who does and the One who observes. One day he takes it upon himself to visit the Front and comes across Marwood. The two Londoners meet up again in the clearing station. Marwood gives Scarsdale a package containing a photo of his daughter and some letters, then dies. Scarsdale will deliver the package and fall in love with the daughter, but that will simply be the beginning of one part of his life. It's been a while since I read a WD novel. This could almost be a continuation of NO HERO-THIS, although the characters are different men in many ways. Scarsdale is a man with whom I can readily identify. A writer of no great note who will find London life after war a world apart. This is a long novel - almost 400 pages. I read it in a little over a day of spare time. The narrative as usual reaches out and grabs your heart. You're held in the author's grip and must read on without a break until hunger intervenes. Or so it was with I. How I marvel at WD's ability with pen and ink, his mastery of the English language, his knowledge of human nature! Yes, another chance to lose yourself in post-WW1 London. You're there, breathing the air and marveling at the sights. Technology may advance but people change but little. This novel has to rate ***.
OLD WORLD DIES, THE (1954) Reviewed October, 1998
Sir Roger Marrion lives at Wynyates, a large country house at the foot of The Surrey Downs. With his world fast disappearing and war clouds looming, Roger's best years are behind him. His story begins in 1939 with Britain unprepared for war. Roger takes heed of what lays ahead and prepares his people and property despite his own pessimism. The plot of this book is similar to the earlier LAUGHING HOUSE, although it is presented as a series of diary entries covering June 1939 to February 1942. In the pre-amble, Roger mentions that he has survived four years of war. This seems to indicate that the book is incomplete. At a little more than 150 pages, having been published several years after the author's death, this seems likely. See what you think. As such, I found it to have a most disappointing conclusion. *
ORCHARDS (1922) aka 'The Captive Wife' Reviewed November, 2003
This is a fairly hard to find WD book; it's taken me 5 years to turn up a copy. A romance set in the 17th Century during the civil war. British history prior to the 20th Century has largely been forgotten by this reviewer. Not unusually, the well-heeled hero has a limp, falls in love with a rather wild lady with impeccable credentials, plays the gentleman once too often and is too good to be true most of the time, comes to his senses and takes up the sword. As with all WD novels, brilliantly written with amazing attention to detail, worthy of a BBC mini-series and rollicking good fun. If you've run out of G Heyer books to read, this one will convince you that you should read every one of WD's books. Recommended. **
PORTRAIT OF A PLAYBOY (1947) Reviewed October, 1998
Sometime in the 1930s we find Maxwell Tryte, artist, author and playboy, living in his St Martin villa in the south of France. His decadence is offset by the solid and now land locked Captain Valentine Samson - 'Old Sam'. Rowena Ravenstock is a bright young follower of the tennis circuit and can hit a mean ball. Madame Josephine Bertrand is Tryte's housekeeper. All return to Medworth back in England with the arrival of Spring, although Tryte stays in his London flat before driving into the country in his new car. Here he meets a certain lady who leaves Tryte with a debilitating disease which will change the course of his life. The first three chapters I found hard going, either due to the manner of style or possibly the actual content. Next time I'll begin with Chapter Four! Another good story from The Master which took a while to command my attention. Once in, though, I had to keep on reading non-stop. **
THE PRIDE OF EVE (1914) Reviewed October, 1998
James Canterton is a nurseryman, a trader in the eyes of wife Gertrude whose talents rest in managing things and people. Eve Carfax is an artist whose talents have yet to be fully realised. James is a man of the land and a father hero to daughter Lynette. Together these three keep the fairies happy in Fernhill. But James knows little of proud Woman: Eve will strike out on her own.
"London was so abominably ugly, and the eternal and seemingly senseless hurry tired her brains and eyes...The odours connected with burnt oil and petrol, pickle and jam factories, the laying of asphalt, breweries, Covent Garden, the Meat Market, had no familiar suggestiveness. Nor did the shops interest her for the moment. She had left the more feminine part of herself at Fernhill, and was content to wear black." When life took a turn for the worse, Eve was forced to sleep on the Embankment.
"Eve turned away with qualms of disgust, and glanced at the old woman. Her face, as she slept, had an expression of absurd astonishment, the eyebrows raised, the mouth open. Her face looked like tallow in a dirty, wrinkled bladder."
The meeting of two worlds, this book, like many of WD's novels. The fly on the wall look at London life at the time of the suffragettes, the problems facing the newly independent single woman are in sharp contrast to the romantic story running along in the background. Compared with later and similar novels, this is not quite as well constructed, while the finale might appear contrived. Certain chapters, though, sparkle with their almost photographic descriptions of London life. **
THE RETURN OF THE PETTICOAT (1907) Reviewed October, 2000
An Aussie returns to the Old Country and decides to pose as a bloke. She/he is considerably well off so life poses no financial crises, which kind of takes the edge of the tale! She naturally falls in love with a down and out local who once used the own the property she now occupies. Bears similarities to other WD novels including 'The Road'. This early story is entertaining and refreshing for the most part. Possibly it was considered outrageous in its day with overtones of ...but I'll leave the reader to discover the delights of the story. **
THE ROAD (1931) Reviewed May, 1998
Ex-Captain Nicholas Bonthorn was comfortably off. He drew disability and wound pensions, plus interest on an investment. His housekeeper Martha regarded him as an oddity, a gentle genius with abilities in horticulture and other things. Beech Farm was on a lane above Mill House, home of the Bucks: mother Robinia, daughters Rachel and Rhoda. The Bucks managed Mill House as tea rooms with petrol available for the young things out for a drive on the London-Lignor road. The day Bonthorn brought a tiny dog, back broken from a run-in with a racing car, into Mill House, proved to be prophetic. Next time the stakes would be higher. The author is at his best here with a contemporary story featuring a man, his dog, three women and two gardens. Have you ever wondered what goes on inside the mind of a paraplegic? Sixty years ago when this story was written, losing the use of your legs was akin to a mental death sentence. To say more would spoil the story. Recommended reading if you're feeling down. Guaranteed to bring you to your feet, smiling, cheerful and ready to get on with life!***
Review from THE SKETCH, London, dated September 23, 1931
Column 'The Literary Lounger' by L P Hartley
sub-title 'Medical Romances'
"The Road" belongs to a curiously lengthening list of medical romances. Mr Warwick Deeping, of course, is too accomplished both in science and in art to allow the one to injure the other: we are neither harrowed nor bored. The heroine of the story is an invalid, the victim of an accident; the hero a kindly bachelor, moved to the extreme of sympathy. But there is much more in the story - differences and adjustments between old and new ideas; instances of great patience, great courage; amusing interludes, and the characters on the whole are pleasant, even when, as their circumstances incline them to be, somewhat sentimental.
Rachel's back is injured and her lower limbs are paralyses. With her mother and sister she has helped to run a roadside teashop. They were poor; the sister has to do double work; Mrs Binnie must serve her invalid daughter as well as her customers. In life the devotion of Bonthorn to her plucky little mother would doubtless have seemed a beautiful thing; in the book it strikes us as rather less impressive than we feel it ought to be. The characters frequently warn each other not to be sentimental; but frankly they are, and Bonthorn himself is no exception. Such love should surely come as a climax; by lingering on through long days of hopelessness, discussed in all of its complex stages, it grows too reasonable for our satisfaction; it almost drifts into commonplace. There are delightful touches in the book - descriptions slight and vivid; some excellent characters (we must all bow to Mrs Binnie); and some wise thoughts wisely expressed. These last are found chiefly in the closing chapters; the charm belongs to the earlier part, and, notwithstanding the kindly wisdom, we should have preferred less of the end and more of the beginning. #
REPRIEVE (1945) Reviewed October 1998
A large house, two cars, two children and a socially responsible wife should have seen Arthur Brown happy. A successful business in the city - but life has become humdrum. He dreamed, but would be brought back to earth with a thud when the local doctor and a second opinion announced that he had but six months to live. This initially amusing novel is set firmly in the 1930s with its regular mention of the approaching German breakout. Residents of that part of the world will possibly find this book offensive. What would you do if given six months to live? There are some genuinely priceless moments in this book which will have readers laughing. All concern Arthur's family trials and tribulations. Overly romantic in many parts but still a good read. If you do find parts not to your liking, I suggest you turn to chapter 23 and read on. **Chapters 1-8 and 23 onwards.
ROPER'S ROW (1929-see jacket top of page) Reviewed October 1998
Wiltshire boy Christopher Hazzard had been born with a limp. He was teased by the inhabitants of Melfont but shone in the classroom. His mother, Mary, scrimped and saved to send him to a London hospital where he would shape up as a doctor. Hazzard's great love was research into bacteria. He would eventually set up a lab at number 7, Roper's Row, where "The penny was a coin of some significance". Hazzard "never indulged in a fire. In Winter he sat and read in his overcoat. His feet got stone cold, but that was to be expected when you were using your brain". His fellow students didn't think much of him. "At Bennets he was loathed, because he was such a scrub and so abominable efficient, and played no games and was so obviously a child of the people". Ruth Avery lived across the landing. She was a typist somewhere in the city. And so begins another topnotch story. Live and breathe the atmosphere of London with the characters who will rapidly worm their way into your affections. WD writes as usual with authority on a subject close to his heart by all accounts. While reading this book I thought of Ayn Rand's 'The Fountainhead' for some reason, although it lacked the warmth of 'Roper's Row'. At over 400 pages this is a longish book but as usual there are no wasted words. Unlike a couple of books above, it is timeless in its style. ***
THE RUST OF ROME (1910) Reviewed October 1998
An ex-Oxford man has returned to the outside world after two years 'inside'. He will change his name, leave the city and built his house of logs inside a forest. Not so far away, a sensitive author and his ill wife will hide their problems from a daughter who is quite capable of handling the world on her shoulders, given the opportunity. Roman ruins will bring these people together with tragedy for all. An early and dated story, but as always full of vivid descriptions of England, countryside and people. Slow in parts, this book should be avoided by inexperienced WD readers. Not unlike a Jane Austen novel in parts, due to the lovely language missing in modern fiction. If you are a 'Pride and Prejudice' devotee, you'll love this story.
"Eve's face was upturned slightly, the lips apart, the eyes wide open towards the dusk, the face of one who craved instinctively for air and light." *
SACKCLOTH INTO SILK (1935) Reviewed May, 2000
It's been several weeks since I finished this excellent book and having read two Wodehouse Jeeves books since, my memory is somewhat lacking. The book follows Karl Slopp from his childhood in a London secondhand clothing store run by his domineering mother. Karl is the youngest of three boys, his father is a Marxist and why his parents married would be a good question. Karl wants to be a writer of fine plays and his mother is there to help him along at any cost. The story starts at the end of the Edwardian era before progressing through the Great War and beyond. Wonderful descriptions of London life and of course Deeping's as always unsurpassed recollections of life at the Front. ***
SECOND YOUTH (1919) Reviewed January, 1999
Miles Lavarack, shy, restless and lonely, is in his final year of Law and intends to join his father's firm in their home town of Sutton Verney. The law firm of Potts & Potts in London provides him with little enough to experience life. He's a country boy at heart and lacks the worldliness and baser instincts of his colleagues. He's a sentimentalist who hopes to find The Woman, she who will become his comrade in all things. Miles' sister, Kate, is anxious to escape the constrictions of country life. She's always interested in Miles' stories of London, and can't understand his loneliness. One day Miles meets his Pretty Lady and she will keep the little boy in him happy. Ahead is the Great War, changes in life and values, pain, anguish and possible happiness. Yet another novel which provided both pleasure and disappointment, not necessarily in that order. I'm a sentimentalist but in this novel, WD really overloads his chief character with sentimentality. Perhaps I have a perverse nature. I prefer it when things are going badly for the main character. When things are going good for Miles, the narrative in many instances is simply too treacly. Maybe that's the way life was in the Edwardian era. The finest section of this novel involves life on the Front in France. WD dedicates the book to his wife: 'That Dearest of Comrades'. I'm sure she's the model for one of the characters. ***first two-thirds, no star for the final part.
SEVEN MEN CAME BACK (1934) Reviewed January 1999
The seven men are Pvt. Albert Kettle, Capt. Sherring, Capt. (Dr) Pitt, Lt Dave Crabtree, Lt Loviebond, Sec Lt Archie Steel and Sec Lt Bastable. The story begins in the last days of the Great War when the Seven declare on Armistice Day that they will meet back in London a year hence. We follow their changing circumstances back on civvy street. Sheering is 'Skipper' to his men, admired and beloved. Pitt is 'doc', Kettle is the Cockney: cheerful, lively and all that goes with it, 'Crabbie' the solid and dependable countryman. 'Archie' is the lad, Loviebond tall, dark and dandified, Bastable the craven coward. Entertaining, amusing, harrowing, reflective: this novel is all of these and much more. WD firing on all cylinders, taking swipes at the Reds, the class system, the new moderns, the treatment handed out to the de-mobbed men, tired from the battlefront. A few extracts:
[The first re-union]
The waiter disappeared, and a moment later the frame of the doorway was filled by another figure. There was a shout from Steel.
"Skipper!"
They stood looking at Sherring, momentarily mute, for Sherring was the man who somehow made the night complete. To Crabtree, Steel and Kettle he was more than mere man, the same and yet different, thinner, a black overcoat over one arm, his dinner-jacket well cut, his tie tied by hand... [and later] His motionless figure came to life and stepped forward out of its frame, and the figures of those other men flowed towards him.
[Sherring meets Steel's first child.]
Life began by being so supremely natural and unsophisticated. It asked you for everything and nothing. It clutched your finger and bubbled. It could raise infernal squalls and yet be so restful.
[Una Crabtree, 'Crabbie's' sister]
She sat bareheaded in the patch of sunlight with the trunks of the larches rising above her like the masts of ships. No wind moved; the woodland fleet lay in harbour. She felt the warmth of the sun on her face and bosom, and her secret self seemed to creep out to bask like some little animal. The wood's beauty was hers. She could still steal to it as to a sanctuary, and forget for a while...
Ah, sweet music to my mind.***
SLADE (1943) Reviewed by inthetwilightzone@gmail.com (anonymous coward656)
James Slade arrives by 3rd class train coach at Southfleet, where he is met at the station by Clara Pomeroy. Mrs. Pomeroy has engaged Slade as a servant at her seaside establishment, the Hotel Caroline. From their first meeting at the train station, she is uncivil and critical of Slade. In his basement room at the Caroline, he read his orders from Mrs. Pomeroy:
"He was allowed one free afternoon and evening a fortnight. He was to return punctually at ten.
All public houses were forbidden him. Well – that was a superfluous precaution as he had no money in his pocket, and wages had not been mentioned.
He was not to smoke.
On Sundays he would attend evening service at St. John's Church.
He was to rise at six each morning and go to bet at ten
He was not to waste candles by reading in bed.
His laundry would be charged to the hotel
He would take his meals in the staff kitchen, but he would not be allowed to loiter there. When not on duty, he would remain in his own room downstairs."
Mrs. Pomeroy also instructs him "You will not speak to the child", referring to her 5 year old daughter Rose.
Clara Pomeroy's demanding personality makes his life and that of the other staff at the hotel a constant state of physical and mental stress. As the story progresses, the reader learns why Slade continues to stay on at the Caroline Hotel under such conditions. Helping him to cope are the other servants at the hotel, Florrie and Eliza, who come to love and respect him and call him Dad. He also develops a deep friendship with the eccentric Mr. Truslove, one of the elderly permanent residents at the Caroline Hotel. The one joy in his life that serves to anchor him at the Caroline Hotel is his friendship with Rose, as she grows from a child to a young woman, and then a married woman with her own young son.
In Deeping style, good behavior is always rewarded and this story is no exception. The years of unselfish, devoted service by Slade to Mr. Truslove, results in a most unexpected reward with a resulting dramatic change of circumstances for Slade.
Interestingly, Dr. John Richmond and his family, from THE DARK HOUSE, also appear in scenes of this story.
317 Pages. This is an engaging story and hard to put down. I think it is one of Deeping's top 10. Apparently others agree, as on the opening page of the copy I have, the original owner from 1943 wrote, "This book should be re-read !". ***
SMITH (1932) Reviewed November, 1999
Keir Smith is a dour and intense character, a keen and honest carpenter who works for Messrs. Sampson and Hoad, Builders, of Kingham. Despite his self-interest he will meet a girl while working on a job, fall in love, marry and experience a child. Keir will find life difficult at times, and will make life difficult for both his wife and himself. But there is worse to follow before... No point in giving away the storyline. This book becomes one of the author's rants against the social upheavals of the post-Great War era. The story starts out in great style with fine descriptions of the array of characters paraded before you. Not unusually, the final few chapters are just a little too perfect, a little too something or other. Of course I still enjoyed it. *
SULVA JOHN (1924) Reviewed December, 1999
Ex-soldier supposedly dies in the trenches, travels the world as a soldier-of-fortune but feels the pull of the old country. He returns seven years later to see what has happened to his younger brother, his financee and the man who tried to kill him. It's usually difficult to define a WD novel in a couple of lines but this time we have a book which really crawls along at a snail's pace for the first 200 pages. Or, so it seemed to this reviewer. Once past that point, the story picks up and provides the usual interesting events. Don't recommend this to any non-Deeping admirer. It will put them off unless they are romantically inclined or interested in gypsies. I didn't take to any of the main characters and would like to hear what other readers think. *
THE SWORD AND THE CROSS (1957) Reviewed February, 2001
This book was the last published, not appearing until well after WD's death. The story is set in ancient Britain not long after the withdrawal of the Roman legions. The characters are Gerontius, an Englishman of noble birth, and Igerna, whose family is butchered by invading Saxons. A story of romance and savagery, up to WD's usual standard so far as historical accuracy is concerned. Perhaps a little bit too sentimental for current readers, I thoroughly enjoyed it and feel perfectly justified in giving the book two stars. **
THREE ROOMS (My copy undated but pre-1930) Reviewed May, 2000
The setting is a third-rate hotel on the French Riviera, in the style of the cheap English seaside boarding house. The story is a fairly standard romance: an all-knowing female confidente who provides the link between the players, the rich and amoral yet likable rogue, the sensitive and spoilt man-child and of course the larger than life female lead who is loaded down with a selfish mother. There are some racial overtones to this novel which may disturb some readers so it is only recommended for WD admirers. Otherwise it's a pleasant if somewhat dated story.*
VALOUR (1918) Reviewed February, 2000
Pierce Hammersly came from 'the' family of Scarshott. He was somewhat spoiled if good-hearted and joined up as an officer and gentleman. Before long he would find himself in the hell that was Sulva Bay at Gallipoli and would prove to be less of a man than those around him. It would be an extraordinary woman who would give him back his manhood and provide a second chance. Another semi-biographical book from our author and as usual, a cut above many others. A good read from beginning to end with no faltering, thus worthy of three stars. ***
THE WOMAN AT THE DOOR (1937) Reviewed November, 2005
Naive loner, rather strong and good looking, moves into an ancient lookout tower in the south of England. Badly beaten wife of rough farmer turns the tables and kills husband. Our loner hides the wife from the powers that be and the two fall in love. This could be termed WD's standard plotline. Simply explained but the author spins the story out to more than 300 pages and of course, he tells the tale rather well. The first third of the book is enjoyable but eventually, sentimentality overtakes the plot and we are led into the 'realms of fantasy', to borrow an expression from the much-loved 'Dad's Army'. A contemporary setting makes this more easily digestible for the average reader rather than, for example, 'Marriage by Conquest'. *
Comments from readers
Date: 2/08/2002 11:13:33 AUS Eastern Standard Time
From: Mypck@aol.com
I found, and read, Slade a few weeks ago. I had never heard of Deeping and read his book because I could not fall asleep one night while staying in my parent's home. I had been cleaning out and listing the property for sale and took the book from a box that I had planned to throw out. I am so glad that I did not throw it out! I tried to find more Deeping at the library, they had none. It is great to find this web site and to know that there are other people who have appreciated his novels. Thanks. Myra
Vickie Millegan <vickie.millegan@q.com>
Date: 2009/9/30
From: vickie.millegan@q.com
I was reading the info on the Collecting Books Warwick Deeping website and just thought I'd give you a holler. I have 59 of Mr. Deeping's books and cherish each. It crossed my mind that you might be in touch with other Deeping admirers and, if so, might hear of books for sale.
To the best of my knowledge, I will have a complete collection after I acquire the following: Apples of Gold, Bess of the Woods, Countess Glika and Other Stories, Lantern Lane, Mad Barbara, Martin Valliant, Orchards/Captive Wife, The Pride of Eve, The Return of the Petticoat, The Secret Sanctuary/The Saving of John Stretton, The Seven Streams, The Slanderers, the Sword and the Cross, These White Hands, Time to Heal, Two in a Train and Other Stories, and A Woman's War.
Thanks for your time.
Vickie Millegan
Bute, Montana
SHORT STORIES
The author wrote many short stories, not all of which were collected. As with the novels, some appeared under more than one title. If you can add to the list, or provide alternate titles, please contact John at opsbooks @ aol.com (copy, paste and remove spaces). The following ,except where noted, are to be found in The Short Stories of Warwick Deeping, Cassell, 1930. (Also published as Stories of love, courage and compassion.) About half are set in Italy while many have as the main character someone recovering from an illness or similar. Some are overtly sentimental while the best ones are those with a goodly dose of humour. See Meryll's listing below the main list for short story publication details.
To the left, our author's obituary in The Illustrated London News, April 29, 1950, page 648.>>>

At "The Golden Palace"
Barron's Broken Head
Black Cat, The
Blue Tulip, The
Broken Violin, The **
Caliban
Cave, The
Child, The
Contraband
Discord
Elizabeth
Escape
First Wrinkle, The
Great Saaba Bridge *
Gustave
Harmless Satyr, The
Heritage
Hesperides, The
Immortals, The **
In the Snow
Laughing Sickness
Liars, The
Man Who Came Back, The
Man with the Red Tie, The
Noise
October: Of a Lover's Quarrel and How it was Healed - 6 pages, in - The Argosy (UK short story magazine), November 1927, Vol.11, No. 18 Thanks, Chris.
Old Fagus *
Other Woman, The
Paternity **
Poet and Peasant
Pool of the Satyr, The *
Precious Stones *
Rachel in Search of Reality
Red Blind, A
Red Van, The
Restitution
Ridicule **
Sand Dunes
Sand-pit, The
Sappho
Sennen Climbs a Wall **
Shipwreck and a Shrew **
Six Months to Live ***
Son, The **
Stockings
Strange Case of Sybil Carberry, The ***
That Vulgar Person ***
Three Trees, The **
Tom Silver's Bus **
Two Men *
What About It? **
Wilmer's Wife
From: rainyday@bigpond.net.au (Rainy Day Books)
Very disappointing, Stories of love, courage and compassion has the very same stories as The short stories of Warwick Deeping. Might save someone else some money if you make this clear. - Meryll Williams [Thanks, Meryll.]
# Stories of love, courage and compassion 1930
## Countess Glika and other stories
### The Argosy April 1932
#### The story-teller magazine ND cover missing
TT Two in a train and other stories
At "The Golden Palace" #
Atlanta TT
Barron's Broken Head #
Bitter silence ##
Black Cat, The #
Blue Tulip, The #
Broken Violin, The ** #
Cakes and sherry TT
Caliban #
Cave, The #
Child, The #
Cocktails for two TT
Compassion TT
Contraband # Novelette
Discord #
Dr Morrow's patient TT
Elizabeth #
Encore, An TT
Escape #
Fame TT
First Wrinkle, The #
Francois TT
Girl on the mountain, The ##
Great Saaba Bridge. The * #
Gustave #
Harmless Satyr, The #
Heritage #
Hesperides, The #
Immortals, The ** #
In a little Belgian town TT
In the Snow #
Jack and Andrew TT
Lady of the terrace, The ##
Laughing Sickness #
Liars, The #
Lucky ship TT
Madness of professor Pye, The TT
Malice of men, The TT
Man Who Came Back, The #
Man with the Red Tie, The #
Manners and men TT
Miss Telford's bed TT
Mr Verulam's week-end TT
Noise #
October: Of a Lover's Quarrel and How it was Healed - 6 pages, in - The Argosy
Old Fagus * #
Old mischief TT
Other Woman, The #
Out of the sea TT
Paternity ** #
Poet and Peasant #
Pool of the Satyr, The * # Novelette ####
Precious Stones * #
Rachel in Search of Reality #
Rainbow, The TT
Red Blind, A #
Red shirt, The ##
Red Van, The #
Reprieve TT
Restitution #
Ridicule ** #
Sand Dunes # ###
Sand-pit, The #
Sappho #
Sennen Climbs a Wall ** #
Shipwreck and a Shrew ** #
Six Months to Live *** # Novelette
Son, The ** #
Stockings #
Strange Case of Sybil Carberry, The *** #
That Vulgar Person *** #
Three Trees, The ** #
Tom Silver's Bus ** #
Unexpected heir, The TT
Two in a train TT
Two Men * #
Waxwork show, A TT
What About It? ** #
Wilmer's Wife #
Wood, The TT
From: Deeping Collector, July 2010
Back to Collecting Books & Magazines INDEX page
bc