bc
AUSTRALIA'S MAESTRO OF THE THEATRE ORGAN and occasionally, the piano, WILBUR KENTWELL, 1914-1981, ex-Parramatta High School student. Wilbur's many albums include the Echoes of Hollywood series Columbia, MGM, RKO, Paramount.


WILBUR KENTWELL
1914 - 1981
AUSTRALIA'S MAESTRO OF THE THEATRE ORGAN
Page updated 12th June, 2019
A page on the Collecting Books and Magazines web site based in Australia.
Wilbur died on the night of 8th February, 1981.
This page attempts to document some aspects of his life, and his record releases over the 1947 to 1981 period.
Album Covers and Recordings
Now on a separate page.
Biographical details appear directly below.
? = Details to be confirmed.
Comments
Links
Biographical details (ref notes in brackets refer to record cover).
* Wilbur was born 29th January, 1914, at Castle Hill, NSW. (DPW.1 ref)
* Studied the piano under Miss Lillian Harvey.
* Had a pivot-tooth? ( Bes McDonald ref)
* Wilbur began studying the organ at age 8, began playing the pipe organ at his Castle Hill, NSW, parish at age 12.
* Attended Parramatta High School 1927-32 (?), may have repeated first year in 1928 (Bes McDonald ref).
* First played the Wurlitzer organ at Sydney's Prince Edward Theatre at age 14. (?)
* Organist at the New Lambton Theatre, Newcastle, at the outbreak of WW2.
* During WW2, Sergeant Kentwell served as a Film Projectionist in the A.I.F.
* After the war played theatre organs at the Vogue, Double Bay and the Trocadero, with Abe Romain's orchestra. (DPW.1 ref)
* Musical Director at Sydney radio station 2GB, also worked at 2CH on the Humphrey Bishop Show. Worked with, among others, Larry Adler, Joe E Brown, Anne Ziegler, Webster Booth and George Formby.
* Worked on the Jack Davey Show. Note there is a mention of Wilbur in 'Davey's Back!', an article in the AUSTRALASIAN POST dated 11 November, 1954.
* Composed atmospheric music for radio plays and serials. (7564 ref)
* Musical Director of television station TVQ (QTQ) in Brisbane, appointed August, 1959. (31664 ref)
* Played (? organ or piano) at the Regal Restaurant in Brisbane.
* People who worked with Wilbur apart from those mentioned elsewhere on this page, gleaned from album covers, include the following. John Stevenson and Don Savage (TVQ), Howell Whitehouse (The Organ Centre, Brisbane), Alan Watson (O'Donnell-Griffen, Brisbane), Ron Wills, John Taylor, David Woodley-Page (RCA ?), Reg Robinson (on string bass), Cyril Bevan and Alan Geddes (on drums), Johnny Edgecombe (on guitar), Ken Hannam (Diaphon).
* First solo artist in Australia to make a Microgrove recording and use the multiple track technique (7564 ref).
* Met Richard Rodgers in New York on April 1st, 1971, during a tour of the USA and the United Kingdom.
* Wife, Fay, and daughter, Carole Ann (DPW.1 ref, then living at Elizabeth Bay).
Acknowledgements
Special thanks to Phil Paterson of the Central Coast Swing Music Society who very kindly supplied me with information and a pile of photocopied album covers back in 1991, Mrs Bes Macdonald who came up with the Parramatta High first form school photograph from 1928 and Stephen Fleay for his recent information, two fine photos and recordings.
<< Wilbur, Parramatta High School, Sydney, 1st year, 1928

Wilbur Kentwell and Eric Wynne on Double Bass, possibly on Channel 9's Brisbane Tonight Show, 1960s. >>
** Note below
Comments
** From Frances Wynne, 2006:
I have been going through all my family photo's and scanning them to the computer. Amongst them I found the attached photo of Wilbur Kentwell and my father Eric Wynne on Double Bass (although the bass can't be seen). The photo appears to be taken while they were playing in the band on Channel 9's Brisbane Tonight Show. I can't remember the year that the show was running but sometime in the 60's I think. ... I have a vague recollection that it was Wilbur Kentwell who played the organ at the Regents Theatre in Brisbane possibly in the 1940's or early 1950's. ... Eric Wynne was a well known bass player in Brisbane during the 50's and 60's and was the bass player with bands that supported various overseas entertainers. Ella Fitzgerald, Shirley Bassey, Johnny Ray, Tommy Hopper to name a few. ... Eric died in December 1976 from cancer.
Many thanks for your recollections and the photo, Frances.
From Stephen Fleay, 2007
Hi John; delighted to see your page about Wilbur Kentwell... I met him on a number of occasions in the early sixties.....one time at QTQ channel 9, and several times when he visited the Palm Beach Hotel (Gold Coast) and played my Lowrey Holiday Organ.
Recordings were made, and some have survived reasonably well.....Will attach an almost complete version of "I've got Rhythm" which has been run thru the restoration programme Adobe Audition.
I do not believe Wilbur played theatre organs in Brisbane in the 40's and 50's. He was most prominent as Organist for the (Sydney based)Jack Davey radio shows during the 1950's....and certainly did perform on Sydney theatre organs......some info on this in the Australian Theatre Organ web sites.
Your page has given added impetus to restore these Lowrey Organ recordings......Wilbur also sings some "oldies"....with reaction from a lively late night audience at the Palm Beach Hotel. I'll also scan a cuppla photos for you.....to be continued.
Best regards,
Stephen
Thanks for the MP3 recordings, Stephen, and the two great photos. Details under the first photo.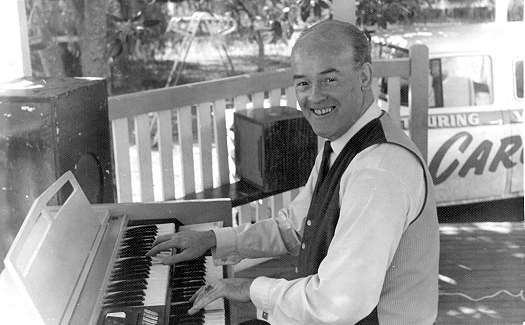 Milmerran, Queensland circa 1964. Wilbur had friends in show Carol's Varieties. (I was organist for this show in '63 and '64). Wilbur played for an ANZAC service outside and also posed for a picture with myself and a Lowrey Organ banner. As Wilbur was a Hammond exponent at the time, it was good for Lowrey Organs. I ended up with a Hammond, and have the large Hammond Elegante in the house. It was acquired in Europe and sadly there are no qualified people in Indonesia to service it. - Stephen.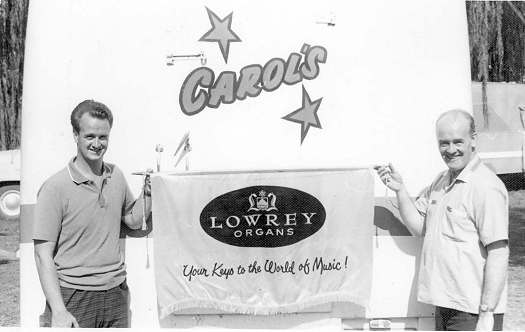 From Ade Gregg, 2008
Hi, Just saw your fab page on Mr. Kentwell; filled in a bit of history for me, let me say. I used to know a fellow who recorded him in Newcastle and I restored his 10 inch LP "Australia" by again Mr Kentwell; interested? / I have also transfered a heap of Wilbur's 78's which you do not have on your list (at least 2 or more!) / I'm an audio Enginner and would love to help in any way to bring back the sound of Mr Kentwell in any way possible. / In fact I've started a blog and have a 78 restored The Continental (I know its a popular disc!) the next one will be the Annie get your gun and the Jolson Medelys.
Thanks, Ade Gregg
Oh BTW my page is at http://www.ade42.blogspot.com
From Wilfred HÝsteland (Bergen, Norway) 2008 willand@c2i.net

Sorry I can't help, but hopefully someone reading this will contact you.
From David, May, 2011.
Hello John,
I just did a random search and found your post.
Can I just say that I was totally 'gobsmacked' to see the photo of Wilbur Kentwell, playing the organ in the Rotunda in Millmerran. I was there that Anzac day, just a kid in the crowd, but I'll never forget it.
As time passed and I found myself in Brisbane, I met up with Wilbur and we became friends. In conversation, I mentioned the Anzac Day in Millmerran and he told me about how he came to be there, but I am totally stoked to have seen this photo. This is brilliant.
Kindest regards,
David Graham
bc