bc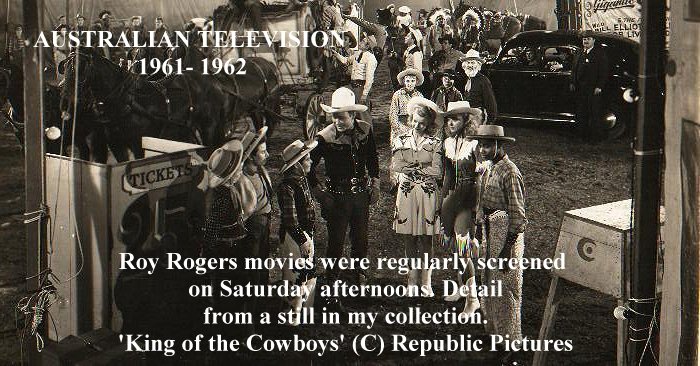 Just ONE page on the Collecting Books and Magazines web site based in Australia.
I hold a small collection of clippings, magazine covers and similar. If you are involved in an
authorised release via a copyright holder of any of these shows, I'll be happy to assist you.
Updated 24th May, 2015.
Below is the list of shows which screened on Australian television during the 1961-62 season.
The DETAILS column will be used to indicate shows which have some details including reviews on the IMDb.
As I don't have time to insert links on all, use this link to search for the show there.
Genre and source in brackets ( ..) May be errors; this is all taken from AUSTRALIAN TV YEAR BOOK #4 by Keith Winser.
A=adventure and/or crime, C=comedy, D=dramatic, Inf.=informative, M=music, P=panel, V=variety, W=Western
TITLE
DETAILS
TITLE
DETAILS
Abbott and Costello (C - US) link
Academy Theatre (D - US) link
Adventures in Paradise (A - US) link
Adventures of the Falcon (A) link
Adventures with Hans Hass (Inf.)
Air Power (A - US) link
Alaskans, The (A - US) link
Alfred Hitchcock Presents (D - US) link
Amos 'n' Andy (C - US) link
Andy Griffith Show (C - US) link
Angel (?) link
Annie Oakley (W - US) link
Ann Sothern Show, The (C - US) link
Australian Walkabout (Inf. - AU)
Autumn Affair (D - AU) *
Bandwagon (V)
Bachelor Father (C - US) link
Bat Masterson (A - US) link
B.B.C. Plays (D - UK)
Ben Casey (D - US)
Big Town (A)
Biggles (A - UK)
Blondie (C - US)
Bob Cumming's Show (C - US)
Bob Hope Show (V - US)
Bobby Limb Late Show (V - AU)
Border Patrol (A)
Bourbon Street Beat (A)
Boyd Q.C. (D)
B.P. Super Show (V)
Broncho (W)
Bryan Davies Show (V)
Buccaneers (A)
Buckskin
Bugs Bunny (C - US)
Buried Treasure (Inf.)
Burns and Allan (C - US)
Cafe' Continental (V)
Californians (W)
Caltex Theatre
Candid Camera (C - US)
Cannonball (A - US/Canada)
Casey Jones (A - US)
Challenge (A)
Checkmate (A)
Cheyenne (W - US)
Chez les Dupre
China Smith (A - US)
Circus Boy (A - US)
Cisco Kid (W - US)
Citizen James (C - UK)
City Detective (A)
Coles' £3,000 Question (P - AU)
Colt .45 (W - US)
Come to the Caribbean (Inf.)
Concentration (P AU)
Consider Your Verdict (D - AU)
Conflict (D)
Corrupters, The (A)
Critics (P)
Daly at night (P)
Daniel Parson Presents
Danger is My Business (A - US)
Danger Zone (A)
Danny Dean Show (V)
Danny Thomas Show (C - US)
D.A's Man (A)
David Copperfield (D)
Dear Phoebe
December Bride (C)
Decoy (A)
Dennis the Menace (C)
Deputy (W)
Detectives (A)
Dial 999 (A)
Dick Powell Show (D)
Dinah Shore Show (V)
Disneyland (Nature)
Dobie Gillis (C)
Donna Reed Show (CD)
Down to Earth (Inf.)
Dragnet (A)
Dr Hudson's Secret Journal (D)
Dr. Kildare (D)
Eddie Cantor Theatre (C)
Eighty-Seventh Precinct (A)
Eric Sykes Programme (C)
Expedition (Inf )
Fabian of Scotland Yard (A)
Favourite Story (D)
Father Knows Best (CD)
Federal Men (A)
Five Fingers (A)
Flight (A)
Flintstones (C)
Follow That Man (A)
Four Corners
Four Just Men (A)
Frontier Circus (W)
Fury (A)
Gaslight Music Hall (V)
Gene Autry Show (W)
Glencannon (A)
Graham Kennedy Show (V)
Gunsmoke
Hancock's Half Hour (C)
Hathaways .. .. .
Have Gun, Will Travel (W)
Hazel (C)
Hawaiian Eye (D)
Hennesey (C)
Here Come the Girls (V)
Highway Patrol (A)
Hitchcock I Like to Remember (D)
Holiday Lodge (C)
Honeymooners (C)
Hong Kong (A)
Hour of Mystery (D)
How to Marry a Millionaire (C)
If I Had a Million (C)
I Led Three Lives (A)
I Love Lucy (C)
I Married Joan (C)
In Melbourne Tonight (V)
International Scene (Inf.)
International Show Time (V)
Interpol Calling (A)
Investigators (A
Invisible Man (A)
I Spy (A)
It's Always Joan (C)
It Could Be You (P)
Jane Wyman Theatre (CD)
Jet Jackson, Flying Commando (A)
Johnny Ringo (W)
Laramie (W)
Larkins, The (C)
Lassie (A)
Last of the Mohicans (W)
Laurel and Hardy (C)
Lawman (W)
Leave it to Beaver (C)
Liberace (M)
Life of Riley (C)
Life with Elizabeth (C)
Line Up (A)
Little Women (D)
Living Sea (Inf.)
yes

yes


yes
yes
yes
yes
yes


yes



yes
yes

yes

yes





yes













yes
yes

yes
yes


yes
































yes

yes




















yes




























yes














Lombardo and his Royal Canadians (M)
Lone Ranger (W)
Look (Inf.)
Loretta Young Show (D)
Lowell Thomas (A)
MacKenzie's Raiders (A)
Make Ours Music (M)
Man Called X (A)
Manhunt (A)
Marvels in Miniature (Inf.)
Maverick (W)
Medic (D)
Meet McGraw (A)
Meet the Press (P)
Men into Space (A)
Miami Undercover (A)
Michael Shane (A)
Mickey Mouse Club (V
Mickey Rooney Show
Mickey Spillane (A)
Movie Museum
Mr. Ed.
Mr. McGoo
M Squad (A)
My Little Margie (C)
My Sister Eileen (C)
My Three Sons (C)
Naked City (A)
National Velvet (A)
Navy Log (A)
Nelsons (CD)
New Breed (A)
No Hiding Place (A)
Old-Time Ballroom (V)
O.S.S. (A)
Our Miss Brooks (C)
Panorama (Inf.)
Paragon Playhouse (D)
Parliament of Youth
Passport to Danger (A)
Patti Page (M)
Pendulum (D)
People (Inf.)
People are Funny (P)
People's Choice (D)
Perry Como Show (V)
Perry Mason (A)
Peter Gunn (A)
Phil Silvers Show (C)
Pick-A-Box (P)
Project 10 (A)
Pursuers, The (A)
Quick Draw McGraw (C)
Ramar of the Jungle (A)
Rawhide (W)
Ray Bolger Show (C)
Ray Milland Show (C)
Real McCoys (C)
Red Skelton Show (C)
Rescue 8 (A)
Restless Gun (W)
Revue '62 (V)
Richard Diamond (A)
Riflleman (W)
Ringside with the Rasslers (Inf.)
Rin Tin Tin (A)
Ripcord
Roaring Twenties (A)
Riverboat (A)
Robin Hood (A)
Rosemary Clooney Show (V)
Rough Riders (W)
Route 66 (A)
Royal Canadian Mounted Police (A)
Roy Rogers Show (C)
San Francisco Beat (A)
Science Fiction Theatre (A)
Sea Hunt (A)
Sea War (Inf.)
Sergeant Preston, of the Yukon (A)
Sheriff of Cochise (W)
Sherlock Holmes (A)
Shirley Temple Show (D)
Shotgun Slade (W)
Showcase (V)
Showtime (V)
Silent Service (A)
Small World (Inf.)
Soldiers of Fortune (A)
Spycatcher (A)
Speedway International
Stage 7 (D)
Stagecoach West (W)
State Trooper (A)
Steve Allen Show (V)
Steve Canyon (A)
Stories of tile Century (A)
Sugarfoot (W)
Sunday Concert (M)
Sunnyside Up (V)
Surfside Six (A)
77 Sunset Strip (D)
Susie (C)
Suspicion (D)
Superman, Adventures of (A)
Tales of Wells Fargo (W)
Tell the Truth (P)
Topper (C)
Texan (W)
Texas Rangers (W)
That's My Desire (P)
Thin Man (A)
Third Man (A)
Thriller (A)
Time to Remember
Tombstone Territory (W)
Topper (C)
Top Pro. Golf
Town and Country (Inf.)
Trackdown (A)
Trouble with Father (C)
Tugboat Annie (A)
Twilight Zone (D)
TV Readers Digest (A)
Union Pacific (A)
Untouchables (1))
Val Parnell Presents (V)
Victory at Sea (Inf.)
Wacko! (C)
Wagon Train (W)
Walter Winchell File (A)
Wanted Dead or Alive (W)
War in the Air (A)
Waterfront (D)
Western Round-Up (W)
Western Theatre (W)
Whiplash (A)
Whirlybirds (A)
Whitehall Playhouse (D)
White Hunter (A)
Wichita Town (W)
Wild Bill Hickock (W)
William Tell (A)
Winifred Atwell Show (V)
World Championship Golf
World Film Playhouse (D)
Wyatt Earp (W)
Zane Grey Theatre (W)










yes



yes


yes



yes













yes










yes







yes




yes



yes










yes


yes

















yes




yes
yes


yes




yes












yes














yes










Notes
* 'Autumn Affair' - First locally produced soap. 156 eps x 15 minutes, ATN 7 1958/9
bc