bc
A Letter from Elsie
Updated 11th January, 2015.
This page is part of
COLLECTING BOOKS and MAGAZINES,
Blue Mountains, Australia
SERVING COLLECTORS SINCE JULY, 1997
Originally written for the ABBEY GUARDIAN by the late Lynette Hicks (nee Naudy), NSW, Australia.
It is 52 years since I was given my first 'Abbey' book, 'The Girls of the Abbey School', on my 10th birthday: July 19, 1945. I read it quickly and asked my Aunt if she could please find me more of the same. I remember her admitting that she had another put away, but I must have been persuasive because 'Schooldays' followed quite soon. Christmas 1945 brought me 'Back to School'. And from then on no one need wonder what to give me.
So there I was. A Collector. I longed to dance, and used to collect all the references to a particular dance: "Jen rushed round wildly in her Hey"..."They ran three steps up the set and cast", to see if I could work out what they did. Alas, what on earth could a 'Hey' be?
In my late teens I had saved up enough to go to England, and wrote to Elsie J Oxenham to ask whether such things as the Chelsea Polytechnic really happened, and was there anywhere I could learn to dance.
This letter arrived in the mail.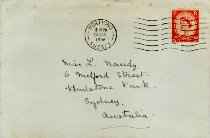 I opened it excitedly.
So off I went. for my two years in England (1956-7) When I arrived in London I wrote to the address Elsie had given me and received this reply.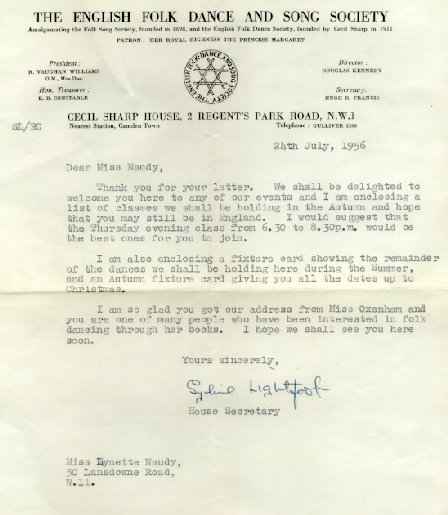 My time in England was largely spent at classes, doing morris, sword, country and Playford dances. I went to the Christmas school at the Chelsea Polytechnic, and even danced in demonstrations at Stratford-upon-Avon. And saw lots and lots of morris. And learnt The Running Set!
When I first reached London I shared a flat with one Noreen Grunseit who, when I told her I was going to my introductory course at Cecil Sharp House, decided it sounded interesting ('interesting'! I was fulfilling my life's dream!) and came along. Eventually Noreen stayed in England for a couple more years in order to learn lots more dancing, and in the fullness of time we found ourselves teaching the dancing in Sydney - and the Sydney Playford Dance Group was launched. Over the years I have taught a few Rapper Sword teams, learnt North West Morris Dancing (I am the musician for Albion Fair, North West Morris side, being no longer able to dance because of an illness resulting in a brain stem injury) and learnt Lancashire Clog stepping. I was also in a group called the Fellowship of English Ancient Rites (F.E.A.R.) which did Mummers Plays at Festivals and in the street from time to time, for a few years. I have a nice collection of folk Play scripts. I also got people started on The Running Set, and in effect, taught the teachers. It is often done over the days of a Folk Festival. (I am one of the 'heavies' in both senses of the NSW Folk scene.) All this having been the result of my addiction to the 'Abbey' books.
But the things I learnt at my first Abbey Girls meeting were astonishing to me - probably because I hadn't known the information existed, as it were. I had thought the Abbey was a figment - yet there were photos taken by a member just three weeks prior to the meeting, of, it seemed, every inch of Cleeve Abbey. I was amazed when told this was Gracedieu Abbey. I heard the titles of lots of books for the first time, and heard that photocopies of titles such as 'Girls of the Hamlet Club' are available. In fact, just as I had been thinking "I wish something new would happen", then something did.
A bonus was finding that most of the members also collected other children's books, such as Bumper Books for girls, or Dorita Fairlie Bruce and so on, and I had continued on my solitary way collecting books (to read and enjoy, I hasten to add - not for possession and investment) for yonks, not finding anyone else remotely interested.
*If you would like to find out more about Folk Dancing today try out this link:
| House of Musical Traditions |
Please send in any useful links to bcooper1@pacific.net.au
We are hoping to add some Australian Folk Dancing groups (not necessarily ones with web sites) to add as well please send in any you know of, if you are in contact with a group please check they are happy to have their details listed before sending them to us, as this will save us a lot of time and effort.
The Parramatta Folk & Bush Dancers (NSW AUSTRALIA) dancing half Hanniken.

This was one of the first dances Jen saw. She was looking down on it at Joan's crowning & Jack explained what they were doing.
Back to main Abbey page and index of EJO items.
Back to Collecting Books & Magazines.
bc